Roobar

JCF Member
Joined: Jul 2013
Posts: 62

Apr 19, 2019, 07:35 AM


Planet Cloudius IX - a 2.5D platformer
---

Updated to version 1.2.x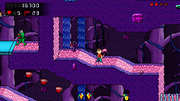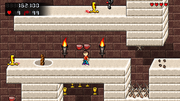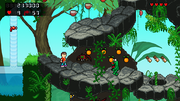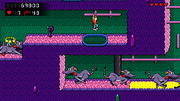 !
If you are fan of platformers like me, then check out this game. I know some of you are familiar with Commander Keen (like stijn) and this one is inspired by it. But there are also some Jazz inspired places and Easter eggs here and there as well.
There are plenty of seriously cool looking levels! New gameplay mechanics! Plenty of secrets and secret levels to explore! And a ton of pick-up items and enemies! All that with cool music tracks!
As for the game itself, a lot of effort went into creating it. It's developed by mostly me and K1n9_Duk3. The engine originated from way back at 2008. The game itself began forming as an idea a year or two later.
Some of the engine capabilities includes: unlimited colors (no color palettes); unlimited png tileset(s), unlimited level sizes (as long as there's free memory); ogg music support; ogg/wav sound effects support; native wide screen support; controllers support; and others.
There are, in fact, at least four
Jazz
references in it! Can you spot them?
Download Planet Cloudius IX
I hope you like it. And If you do and if you would like to support it, than you can hit the like button on the
game's page
! Every thumbs up helps! Thank you.

---
Last edited by Roobar; Jun 20, 2020 at

08:41 PM

.
Violet CLM

JCF Éminence Grise
Joined: Mar 2001
Posts: 10,737

May 14, 2019, 09:28 PM


It's already released.
__________________

Posting Rules

You may not post new threads

You may not post replies

You may not post attachments

You may not edit your posts

---

HTML code is On

---
All times are GMT -8. The time now is
11:58 AM
.
Jazz2Online © 1999-INFINITY (Site Credits). Jazz Jackrabbit, Jazz Jackrabbit 2, Jazz Jackrabbit Advance and all related trademarks and media are ™ and © Epic Games. Lori Jackrabbit is © Dean Dodrill. J2O development powered by Loops of Fury and Chemical Beats. Powered by vBulletin® Copyright ©2000 - 2020, Jelsoft Enterprises Ltd.

Original site design by Ovi Demetrian. DrJones is the puppet master. Eat your lima beans, Johnny.