Roobar

JCF Member
Joined: Jul 2013
Posts: 61

Apr 19, 2019, 08:35 AM


Planet Cloudius IX - a 2.5D platformer
---

Download Planet Cloudius IX
Updated to version 1.1.1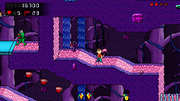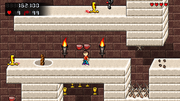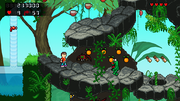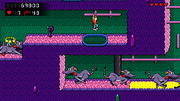 Alright
!
If you are a Commander Keen fan or if you like platformers in general, then definitely check this out! I know some of you are familiar with it, like stijn. So I've put a lot of effort and I've been developing it with K1n9_Duk3 from a long time. There are plenty of seriously cool looking levels, new gameplay mechanics, plenty of secrets and secret levels to explore, a ton of pick-up items and enemies, native wide screen support, no color palette or tileset limits, a lot of cool music tracks, and much more.
Some of the features: no color palettes (true color support); no tileset or level limitations (as long as there's free memory); ogg music support; level/tileset editor support (soon).
There are, in fact, at least four Jazz references in it. Can you find them?
Check it out and let me know! I hope you like it! If you do, hit that thumbs up button on the game's page to help support the game! Thank you!
---
Last edited by Roobar; Oct 13, 2019 at

04:47 AM

.
Violet CLM

JCF Éminence Grise
Joined: Mar 2001
Posts: 10,690

May 14, 2019, 10:28 PM


It's already released.
__________________

Posting Rules

You may not post new threads

You may not post replies

You may not post attachments

You may not edit your posts

---

HTML code is On

---
All times are GMT -8. The time now is
11:02 AM
.
Jazz2Online © 1999-INFINITY (Site Credits). Jazz Jackrabbit, Jazz Jackrabbit 2, Jazz Jackrabbit Advance and all related trademarks and media are ™ and © Epic Games. Lori Jackrabbit is © Dean Dodrill. J2O development powered by Loops of Fury and Chemical Beats. Powered by vBulletin® Copyright ©2000 - 2019, Jelsoft Enterprises Ltd.

Original site design by Ovi Demetrian. DrJones is the puppet master. Eat your lima beans, Johnny.