Slaz

JCF Member
Joined: Aug 2004
Posts: 1,309



Sep 14, 2013, 03:30 AM

That page has an eye-popping contrast on today's HD monitors, especially the bottom story by The TurtleSlayer where the BR tag gets scarce.

Someone should reformat this into an eBook and publish it.

__________________
Add
SlazRabbit
on Xbox Live if you want to play some GoW1/2/3/J or Destiny1/2.
Jazz Jackrabbit 2 Forever!!
Civilian Defence Force
-
Jazz2 Visual Fantasers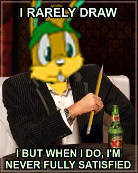 Posting Rules

You may not post new threads

You may not post replies

You may not post attachments

You may not edit your posts

---

HTML code is On

---
All times are GMT -8. The time now is
08:13 AM
.
Jazz2Online © 1999-INFINITY (Site Credits). Jazz Jackrabbit, Jazz Jackrabbit 2, Jazz Jackrabbit Advance and all related trademarks and media are ™ and © Epic Games. Lori Jackrabbit is © Dean Dodrill. J2O development powered by Loops of Fury and Chemical Beats. Powered by vBulletin® Copyright ©2000 - 2023, Jelsoft Enterprises Ltd.
Original site design by Ovi Demetrian. DrJones is the puppet master. Eat your lima beans, Johnny.