May 5, 2023, 08:32 AM


Jazz Shirt Giveaway
---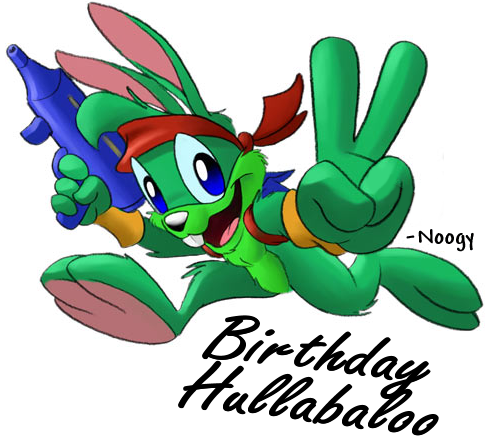 2!
As part of
Jazz Jackrabbit 2: Birthday Hullabatwo
, your friends and ours at Epic Games have organized another free giveaway! This time around, four lucky winners will receive
exclusive free Jazz Jackrabbit shirts
, never commercially available. An additional five winners will receive free GOG.com download codes for the
Jazz Jackrabbit 1 collection
, the
Jazz Jackrabbit 2 collection
, and
Epic Pinball
.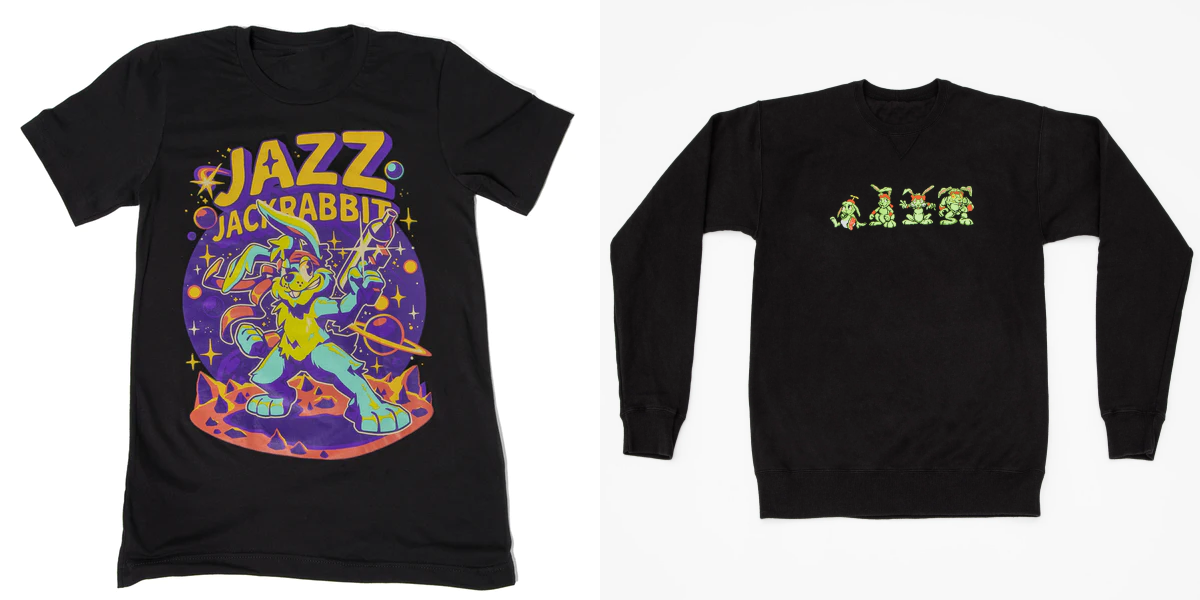 There are
two ways to enter
, and if you do both you will be twice as likely to win something, though you will not be able to win twice:
Write a reply in this thread letting us know what you have learned, gained, or been given from Jazz Jackrabbit 2 or its community, physically or metaphorically!
Create something inspired by Jazz Jackrabbit 2 or its community, and link to it in this thread. This can be in whatever creative medium you choose... a story, a poem, a drawing, a sculpture, a level, a tileset, whatever!
The deadline for submission is Sunday, May 14th, 2023.
Posting multiple memories or multiple creative works is allowed (and welcome!) but will not affect your number of entries. Thirty memories and zero works are a single entry; one memory and one drawing are two entries.
Winners of the shirts will have to submit their mailing addresses to a contact at Epic Games in order to be mailed the cases.
Winners of the game codes must have free accounts on GOG.com in order to redeem their prizes. You are also allowed to give your code to a friend instead of using it yourself.
All winners will be chosen at random by assembling a list of all qualified entrants, shuffling it, and taking the first nine unique names.
Entrants are allowed from any country.
__________________

Superjustinbros
JCF Member
Joined: Jan 1970
Posts: 3

May 5, 2023, 03:05 PM


I've known of Jazz Jackrabbit for years thanks to a shareware disc I was gifted by my grandfather in the early 2000's, and since then in modern times I bought both a physical JJ1 disc and the sequel on GOG, and was surprised to see there was a large community of players still playing JJ2. Since then, I've participated in both AB24 and AB25 and had absolute blasts, especially in AB25, where I got to know more of the current community of players and had a few chats inbetween matches and in the quieter moments of the day.
Ninja
JCF Member
Joined: Apr 2002
Posts: 2,512


May 6, 2023, 03:37 PM


I made a lot of friends when I was younger from JJ2. Learned a lot about other people's cultures and learned how to do web design from being inspired by sites like Jazz2City/Jazz2Stuff as a kid. I also learned that I was terrible at creating tilesets.

My very first memory of playing JJ2 online is joining a server through the won.net server list (I didn't know there was a server patch in game so any time I tried connecting to the list servers, they wouldn't load) and then being promptly kicked as it turns out it was a private server.
Blade

JCF Member
Joined: Sep 2002
Posts: 99

May 7, 2023, 12:11 PM


I'm participating with this Lori drawing and a short text. I'm adding the text tomorrow

EDIT:
Jazz Jackrabbit 2 always was a source of great inspiration and aspiration for me. Be it Nick Stadlers work or Mez's, Disguise's, or Agama's tilesets (or any JJ2 creators' work!) I always made sure to take notes. Creativity has always been strong around Jazz Jackrabbit 2's orbit and I feel the original developers and the community members have taught me a great deal in the past 25 years.
I was a teenager during the early 2000's. It meant a great deal for me to belong into a group of likeminded JJ2 players, creators, and artists.
__________________
[https://www.jazz2online.com/downloads/7852/aztec-2/]Aztec 2[/URL]
Blade's blog on creating the new tileset

(Fortress, that is)
---
Last edited by Blade; May 8, 2023 at

11:51 AM

. Reason: add ruminations
Primpy

JCF Member
Joined: Nov 2014
Posts: 843


May 9, 2023, 06:07 AM


Recently, I've come to realize that creating JJ2+ Single Player levels made me learn a lot about game making in general. From the inner mechanics of a game to level design and visuals, I now have a much better idea on how to make a game and what makes a game good. This knowledge is very useful to me, as I now find it easier to work on my senior project (a 2D game) and I will hopefully make my own standalone game some day. Many thanks to the Jazz Jackrabbit 2 developers for making such a solid, ageless game. Also many thanks to the many(-ish) members of this community for being acceptant and supportive. Oh, and thanks to everyone who helped me improve my levels, either by helping with scripting or by leaving reviews and feedback

It's been a while since I've last drawn something but I'm pretty happy with how drawing this turned out!
__________________
"Floppy ears and a big butt?" - Slaz
Slaz

JCF Member
Joined: Aug 2004
Posts: 1,309



May 11, 2023, 11:26 AM


The JJ2 community has been my go-to place on the internet during most of my teenage years. Playing custom levels, playing online, the concept of clans, chatting on this very forum; this community introduced me to it all! In more recent years I really started to explore JCS and level design which has been a great learning experience, especially the community collaboration projects.
Not being an avid artist, here's an unsatisfying digital painting worthy of my signature: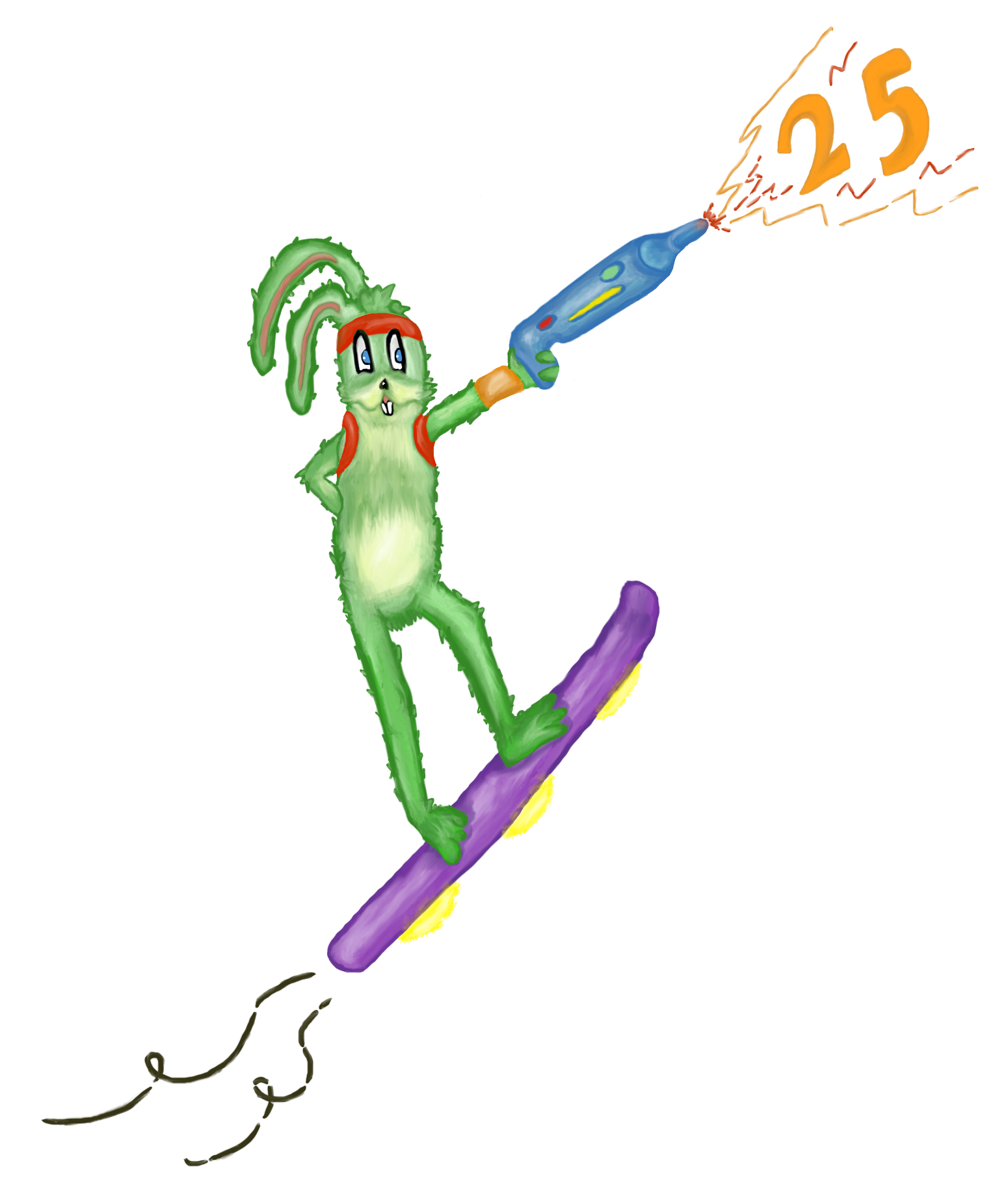 __________________
Add
SlazRabbit
on Xbox Live if you want to play some GoW1/2/3/J or Destiny1/2.
Jazz Jackrabbit 2 Forever!!
Civilian Defence Force
-
Jazz2 Visual Fantasers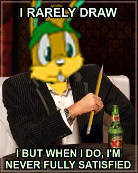 Simon

JCF Member
Joined: Dec 2016
Posts: 58

May 13, 2023, 04:21 PM


The most significant memory with the J2O community is the
collaboration on GOG Patch 1 for Jazz 1
in 2020/2021.
In 2016/2017, I liked to lurk casual Jazz 1 streams on twitch. In 2017, GOG started selling the vanilla Jazz 1.3, i.e., the version with the near-impassable Orbitus 2. That skyrocketed the number of streamers on twitch who got stuck in Orbitus 2. Most people tried between 10 and 30 minutes to pass the bouncy section, then gave up in frustration.
I opened a ticket with GOG in 2017 to report the broken Orbitus, but I didn't have an account, and my only credentials were a link to my website with technical findings on Jazz 1. To GOG, I must have looked like some random fan. The support ticket never went anywhere. Twitch streamers continued to get stuck in Orbitus 2.
Then, in 2020, we started the serious attempt to make GOG Patch 1. Violet had already been GOG's business contact for Jazz 1 and Jazz 2, and conducted the politics. Love & Thunder coordinated, fixed airboard ditches, and prodded me to learn the J1E editor. rsgdbfevx plowed through the J2O archives to find the earlier attempts by Doubble Dutch. I played through the entire game several times just to make sure. After release, Violet posted the
J2O news about the release
.
The patch from this team is better than anything I could have made on my own. I thank the community for the collaboration, for the feedback, and for resolving everything with GOG. I think all of us all learned something new about Jazz 1 from each other.
-- Simon
May 18, 2023, 12:02 PM


Thanks everyone for your submissions and patience! I've sent private messages to everyone with their winnings.

ETA: I've sent Epic everyone's addresses and size preferences for shirts.
__________________

---
Last edited by Violet CLM; May 23, 2023 at

11:18 AM

.
Jun 12, 2023, 12:50 PM


Shirt winners who sent me their mailing addresses, please check your private messages again.
__________________

Posting Rules

You may not post new threads

You may not post replies

You may not post attachments

You may not edit your posts

---

HTML code is On

---
All times are GMT -8. The time now is
02:40 PM
.
Jazz2Online © 1999-INFINITY (Site Credits). Jazz Jackrabbit, Jazz Jackrabbit 2, Jazz Jackrabbit Advance and all related trademarks and media are ™ and © Epic Games. Lori Jackrabbit is © Dean Dodrill. J2O development powered by Loops of Fury and Chemical Beats. Powered by vBulletin® Copyright ©2000 - 2023, Jelsoft Enterprises Ltd.

Original site design by Ovi Demetrian. DrJones is the puppet master. Eat your lima beans, Johnny.