Jazz2Online news for May 2023
Source: JCF post
Way back in 1.21, JJ2's network code was edited so that servers and clients would update player positions to each other less frequently. However, most of us are not using 56K modems anymore. As such, there's an experimental new JJ2+ build that allows more frequent update speeds. There are two commands:
/pxiserver sets how often the server tells clients where other players are. In theory, this should have limited effect on gameplay (except for melee attacks), but lower numbers should make the game visually smoother for clients.
/pxiclient sets how often you, a client, tell the server where you are. In theory, lower numbers should mean the server has a more accurate idea of where you are, for purposes of determining whether other players' bullets hit you.
The hope of this release is to find the best values for each command. JJ2 players vary greatly in their locations around the world, so this will take some doing.
For full details, see SJ's informative post on the subject. Because this code is experimental, if you are using this version of plus.dll, you will only be able to join other servers using this exact version of plus.dll.
Source: BH2 Website
The Birthday Hullabatwo event has begun! Check out our cool revamped
Birthday Hullabatwo web portal
for everything you need, including:
Information about the multiplayer server, including screenshots of almost 700 different Battle and

CTF

maps
A community timeline of important dates and events from 1977 to today
Link to our newest giveaway, partnering with Epic Games to give away free Jazz Jackrabbit shirts, never been sold
Funky graphics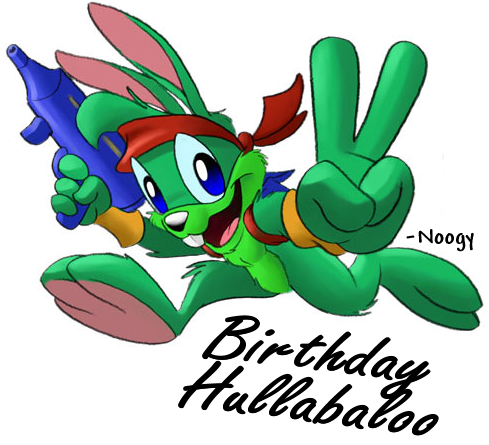 2!
Don't touch that dial! Anniversary Bash 25 was a big hit, but there's still Sunday, May 7th coming up, the 25th anniversary of the retail release of Jazz Jackrabbit 2 across mainland Europe, the first time people got to finally buy and play the game. In 2018 we celebrated the 20th anniversary of May 7th with the Birthday Hullabaloo event: now it's time for Birthday Hullabatwo!
Expect the (Zeal-hosted) server to kick off this Friday and run at least through the weekend. The level list won't be 40 levels long, nor 120, but around 680: every level from every bash ever!
Anything else? You'll have to wait and see…