At long last, the annual Anniversary Bash is happening to celebrate 21 years since the shareware release of Jazz Jackrabbit 2! Beginning on the 6th of April, 15:00 GMT+1, it'll run for 4 days.
For those unfamiliar, this is a public casual online event that hosts a hand-picked set of maps in the Battle and Capture the Flag gamemodes. You can even just chat if you'd like—you might spot a retired veteran! More information is available in this forum thread.
To join the event, you'll need a registered copy of Jazz 2 with the JJ2+ patch applied. (For more information about JJ2+, click here.)
Gravis announces new Gravis Gamepad Mini
Gravis
has announced a new "mini" version of their Gravis Gamepad controller that was made famous by its numerous appearances in Jazz Jackrabbit 1. The new controller will be essentially identical in function and design to the older hardware that ceased production because nobody wanted to buy it anymore, except this time around, it will be smaller. A spokesperson for
Gravis
explained that unlike the original, which could theoretically be used to play any game ever, this new Gamepad Mini will be limited to working with a handpicked set of forty or so games. When asked whether this didn't make it a strictly inferior product, the spokesperson patiently explained, "but, you see, it's
smaller
."
JJ2+ Developers Attempt to Form Union
Unfortunately, unions are not supported constructs in AngelScript.
Epic Games Announces Exclusivity Contract With Epic Games Store
That counts as a joke, right? Look, I dunno, it's late and I'm tired.
As the sunny day of April 9th draws near, preparations for the yearly Anniversary Bash are already underway. Follow the JCF thread for info about the dates and the lists!
If you want one (or more) of your new Battle or CTF level(s) to be considered for inclusion, you have until Wednesday 3rd April to submit it (…). I highly recommend you go and make something, as the Bash more than any other time of the year (outside of JDC) is a fantastic opportunity to give your levels the exposure they deserve!
Source: JCF
The JCS awards have returned, and there's a real variety of levels to choose from this time across multiple categories! Cast your votes here to give recognition to your favourite uploads last year!
Source: https://twitter.com/RerezTV/status/1085788398537760768
After almost 21 years since that our green hero Jazz Jackrabbit has saved the ring from Devan's dirty hands (Yes, I am totally rejecting the GBA storyline here). Jazz has finally started a new business.
He's now into speedy distribution and mega services in Pennsylvania USA…. well at least according to @RerezTV (Shane Luis)'s tweet.
Not that we can find any information about this. The website jackrabbitworks.com doesn't work and Google doesn't give any result. But still funny non-the-less….
Source: https://gamer.nl/artikelen/achtergrond/reload-jazz-jackrabbit-2/
Gamer.nl Dutch's largest gaming website has made a review about Jazz Jackrabbit 2 in their reload series. Reload is a series of reviews from games from the past, think about games such as Sonic the Hegdehog, Super Mario World and Super Mario Bros 3. But this time it was our green rabbit in the spotlight.
Their review is pretty straight forward, it reflects back on the game's development. They also point out that the game is timeless and still works as it is. Plus they praise the community about building new levels etc.
You can read everything here in Dutch here at Gamer.NL.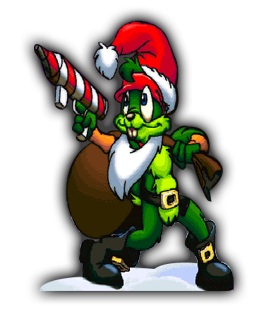 Happy holidays!
Snow is falling in the backgrounds of J2O, JJ1, and JJ2+, carolers are out in the streets without their safety goggles, and candles are being lit at sunset around the world. The J2O staff wishes you all a spectacular holiday season and a happy new year. Enjoy the last bits of 2018!
And an especially happy holiday wish to Holiday Hare 98, which turns twenty years old on December 10th!
PurpleJazz is planning a JJ2 Christmas Party from 20th to 23rd December; check out the JCF thread for further information!
Source: GOG.com
Before Jazz, Epic MegaGames had a different platformer hero: Jill of the Jungle. She was the star of three episodes released from 1992 to 1993, and later reappeared as a table in Epic Pinball and in one of Jazz 1's episode selection pictures… then nothing more. With the demise of the Epic Classics webstore in 2012, it became impossible to obtain the latter two (non-shareware) episodes of Jill legally.
Until today, when GOG.com has not only rereleased the complete trilogy, but made it permanently freeware for the first time ever. Is your Epic collection complete??
(Another Epic game, Xargon, was built from Jill's engine/gameplay with significantly upgraded graphics, but Xargon was declared freeware over ten years ago.)
Source: JCF Thread
Have you been itching for an excuse to make a JJ2 level? Maybe Treylina can help you out with 2-Week Jazz JAM #1: Quirky combo battle. Entrants have two weeks (less than that now) to make a battle level (or two, or three) using multiple tilesets. There is no prize for winning, but you can click through for more details and rules.
Or if you're more interested in single player level design, there is talk of making a Holiday Hare '18 community level pack as a sequel to last year's HH17. Nothing concrete has so far emerged in terms of planning, but you can join in the discussion in this JCF thread.
Source: so this one page on bandcamp
Last week a group of Hungarian music artists teased us with their 20th year anniversary album and promised to release it very soon.
So get your green, red or yellow floppy ears a feast of sound and enjoy some
awesome tributes & remixes
of your beloved game.