Source: JCF
Now's your chance to show your appreciation for your favourite new JJ2 releases of the past year – go check out the JCF thread, and cast your votes!
Voting closes on 16th January at 23:59 GMT+1.
Update: The results are now live! Many congratulations to all of the winners!
On behalf of the Jazz2Online team, I wish you a very Jazzy Christmas and a happy new year!
If you feel like bringing a little Jazz to the festivities, you can find a selection of some holiday-themed Single Player levels right here!
Source: JCF post
A new set of concept art images for JJ2 have been discovered! A handful are familiar from appearing as box/CD art, but most had never been seen outside of Epic Games. There are a lot of pictures of Eva and her mother, including a shot of Eva carrying a gun and wearing something similar to Jazz and Spaz's armbands, suggesting it may have been a design for her as a playable character. There are also several sketches that match images used in the final game, primarily menu character selection sprites and Spaz's ingame sprites.
Check out the full album here, or join the JCF discussion here.
Thanks to Leo TCK, KarmeleQ, and Love & Thunder for their work unearthing these new glimpses at JJ2's origins.
For today's poll, let's consider that underappreciated supporting castmember, the bonus bunny. Or is there more than one bonus bunny? He does come in seven colors! Is he recoloring himself at the speed of light, or is there a whole guild of them which crosses time and space?
And here are the results from the previous poll! If you're good at rhyming and rhythm, looks like it's time to get jamming.

What medium should Jazz be adapted to?
Alternate Reality Game
2 votes (9%)
Live action TV
4 votes (19%)
Musical theater
5 votes (23%)
Black-and-white comic strips published in monthly zine
4 votes (19%)
Folk music
2 votes (9%)
Numbers station
2 votes (9%)
Pachinko machine
2 votes (9%)
Total votes: 21
Source: The JCF
Some time has passed since we last heard from the JJ2+ team, but the new release is finally here!
Amongst many things, version 5.7 brings the following updates:
Increased memory limit
Revamped Head Hunters gamemode
Improvements to anti-cheating measurements (Stijn also wrote an article to provide some context to these changes)
Lots and lots of bug fixes
Download the new JJ2+ update here!
Source: https://www.youtube.com/user/allanzax
The community member Allan Zax has made a new remix of aJazz Jackrabbit 2 music track. He made his spin on the well known Carrotus.
However in the past he made a remix of Medival Jam and is now working on Labrat.
So if you like his work, please give a checkout on his Youtube page!
Source: JCF thread
Yep, it's another news post about Jazz fanworks, and this is a big one: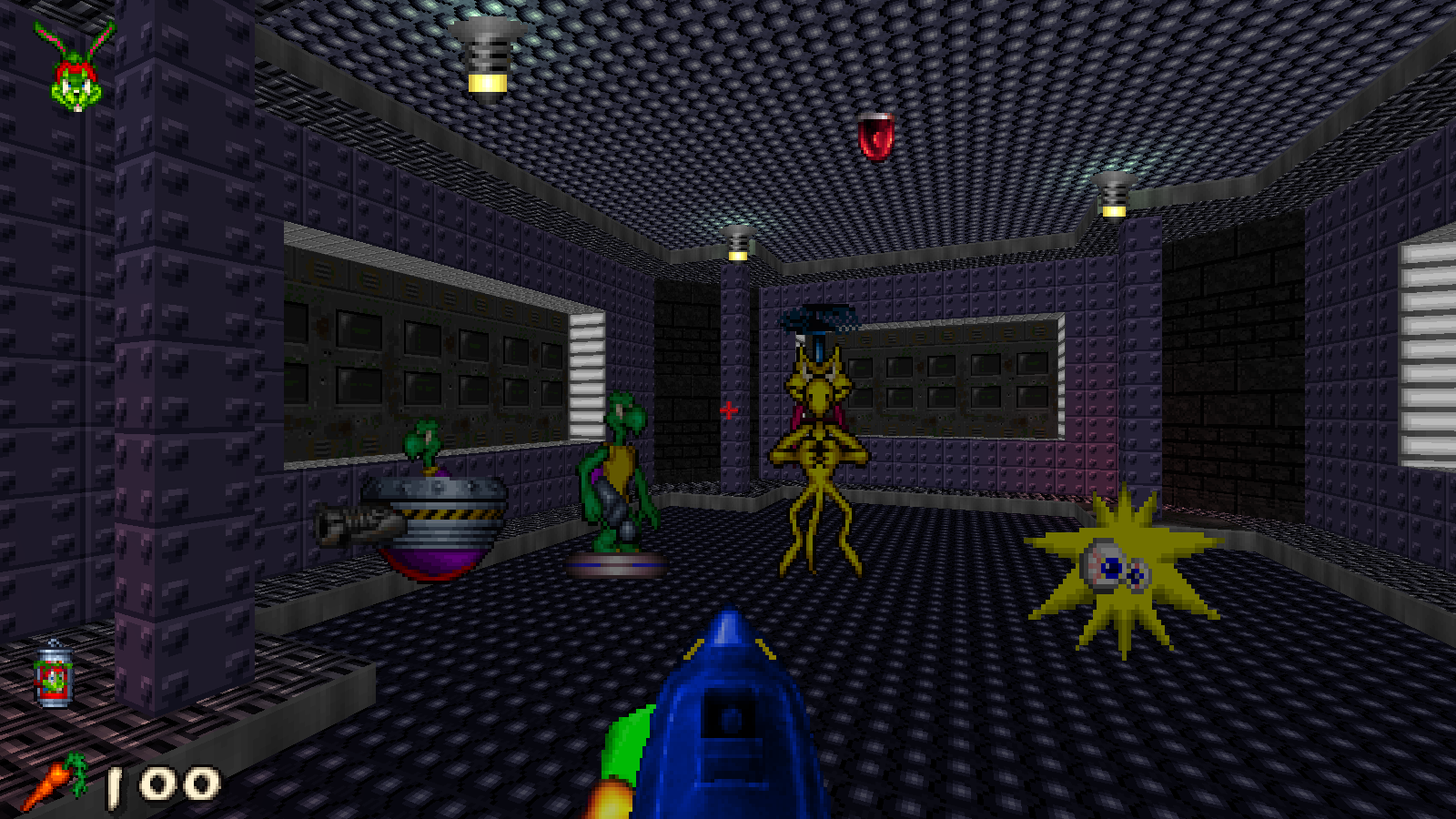 Jazz Jackrabbit Doom TC is a mod of Doom II that finally brings planets, enemies, and weapons from Jazz Jackrabbit (mostly JJ1, but some JJ2) into 3D. There's even a Holiday Hare spinoff mod in the works for maximum verisimilitude.
Not to be confused with Hocusdoom, which includes Diamondus as a bonus level.
People have tried to adapt the Jazz Jackrabbit universe in various ways, ranging from webcomics to full-page comics to sprite comics to fanfiction to muscles. What next? Vote in our new poll!
Meanwhile, here are the results of the last poll. Anniversary Bash didn't last much longer than usual, but we're enjoying an extra-long JDC season to make up for it, with plenty more fun online multiplayer events coming down the line!
Do you want a longer Anniversary Bash this year?
Yes, bring it on!
22 votes (88%)
No, four days is fine.
3 votes (12%)
Total votes: 25