Jazz2Online news for May 2007
Recently posted by Shadow in this topic. All you have to do is sign up and reply to the topic on this forum. He also requested emails and you can find the address in the jcf topic above.
This program can keep track of player stats and it has practical uses such as easier communication between players and it'll make it much eaiser to organize team matches and events.
Be sure to check it out and don't forget to reply!
This was posted on RabbitJournal on May 31st 2007. You can post, too!
The always awesome Haze's Hideout, which features news and a well-structured downloads section, among other things, has often scooped Jazz2online on news regarding the Jazz Jackrabbit brand and Epic Games topics.
I regularly check the site just to make sure I didn't happen to miss anything. I'll take sweet revenge and scoop Haze on one news topic, as there's no signs of it at his site:
Congratulations with your site's 8th anniversary, Haze!
Update: Haze has posted an anniversary post. Do take out some time to send him some cheers!
Anyone competent enough to remake Chemical Warfare into a popular well accomplished level?
This was posted on RabbitJournal on May 22nd 2007. You can post, too!
The results of the battle contest have finally been decided. Congratulations to Past of Level-Design for coming in first place with their level, Foreign Country.
The contest awards will be announced soon. Massive thanks to all the people who entered!
This was posted on RabbitJournal on May 20th 2007. You can post, too!
I'd like to stress the fact that you may not use a lot of the ASCII characters in filenames of the .zip files you upload. I don't have a complete list (for one I know that apostrophes will break the upload, but that's about it), but it's most safe that you resort to using only letters and numbers. Keeping the filename short is also recommended.
Examples:
BAD: Jim's Battle Pack.zip
GOOD: jimbtlpack.zip
Broken uploads, shall they still be made, will get removed instantly and we'll contact the author about that.
Want to be a newsposter? Now, you can!
At least one feature of MyRabbit 2.0 has now actually been implemented for real. The eternally dead user news/opinion section of J2O, RabbitJournal, has received a large update. Now it's directly linked to the front page news.
This means that any stories you submit to RabbitJournal have the potential to make it to the front page of Jazz2Online. These stories could be clan/levelgroup announcements, posts about events in the community or events that you wish to organize, important opinions or "features" of community content.
Whether this actually happens is up to you: you can vote on stories. Any stories with at least five votes and an admin's approval will reach the frontpage.
Have fun.
Update: Protection has been added against tricking users into voting and the minimum of votes required has been increased to 5. Please do not try to mess up the site on purpose.
Update 2: Script works again.
I often see animating tiles in the levels that come with the game.
I've tryed to make my own but I can't.
Can You explain me how to make animating tiles?
This was posted on RabbitJournal on May 7th 2007. You can post, too!
Source: JCF thread
Tired of not getting any reviews on your uploads? Figures that most of the people who upload their stuff to J2O are. However, EvilMike started an official review exchanging JCF thread.
The point is for people to use this thread as a means to agree to trade reviews: "I'll review your level if you review mine." This is something that has been practiced for a very long time, and this thread is just a way to facilitate that by providing a neat and organized place for that sort of discussion.
Go request a review now! (and don't forget to review back)
Edit: Also, don't forget that you can easily link to your uploads using the [download] BBCode.
Featured Download for April
Well, another month has passed. It was a month with a CTF contest that gave us some new unusual levels. To start off with Dim0rphic by Superjazz, a pretty unusual level with weird flag placement, death pits and more things. Another level for this contest was Extraterrestrials by Sacrush. At first he was going to make this level with FireSworD, who entered the contest with another level. This level has a very interesting layout you must see if you like to see new stuff.
But there is another contest, a Battle Contest by Purplejazz. For this contest some levels were made and uploaded in April, while the contest ends on 8 May. Temple of Karnak by White Rabbit is one of the levels for the contest, as well as DarkMatch by Birdie, which has an interesting concept, and Foreign Country by Past of Leveldesign, made with their own tileset conversion from Rayman 1 called Rayman 1 – Forest
And there is also a pack by The Emperor, called Very Average Pack . It contains levels that were uploaded before, one level that was in this year's Bash and 2 levels that weren't uploaded yet.
Now, after all these uploads, it's time to reveal the Featured Download. Like I said when I mentioned Sacrush's level, FireSworD also entered the Unusual CTF Challenge. His level is called Unconventional Coffee and it has very interesting stuff.
The goal of the contest was making a high quality CTF level that has unusual things that you don't see in a lot of CTF levels. Some things this level has: death pits, fly carrots, 3 Full NRG carrots(1 in the bonus) the bonus where you can choose what flag you go to, 5 Power-Ups and one of them is Ice(which is useful in Pitfall levels) and coins.
The main goal of the level is letting others fall in the pits at the bottom. They're easy to avoid, but with some Ice it can become very evil and strategical. The level has a pretty vertical layout, and the bases are easy to camp. However, that can be countered with the coin warp. Because the level has 3 Full NRG's you can't roast someone with normal weapons easily, and the level has almost no RF ammo. The main way to roast someone here is by letting them fall in the pits. The coin warp needs 20 coins, which is not too hard to get as there are four gold coins in the level and 8 silver coins. The other ammo placement is also good, and some food has been added as well.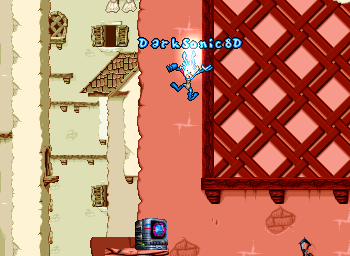 While the eye candy in the level is not spectacular, it's still good enough. In the contest eye candy was not very important. The background gives the level a nice feel(like you're playing in a city) and other stuff is just fine.
While the layout of the level is pretty easy to learn, it's hard to play in this level sometimes. There is a lot of strategy and it's just a very interesting level that's hard to master.
The ones who reviewed this level have already said most things about this level, this level won the CTF contest and that's the reason it got the Featured Download. Next month there will be more good uploads, like more levels for the Battle Contest.