Featured Download for April
Well, another month has passed. It was a month with a CTF contest that gave us some new unusual levels. To start off with Dim0rphic by Superjazz, a pretty unusual level with weird flag placement, death pits and more things. Another level for this contest was Extraterrestrials by Sacrush. At first he was going to make this level with FireSworD, who entered the contest with another level. This level has a very interesting layout you must see if you like to see new stuff.
But there is another contest, a Battle Contest by Purplejazz. For this contest some levels were made and uploaded in April, while the contest ends on 8 May. Temple of Karnak by White Rabbit is one of the levels for the contest, as well as DarkMatch by Birdie, which has an interesting concept, and Foreign Country by Past of Leveldesign, made with their own tileset conversion from Rayman 1 called Rayman 1 – Forest
And there is also a pack by The Emperor, called Very Average Pack . It contains levels that were uploaded before, one level that was in this year's Bash and 2 levels that weren't uploaded yet.
Now, after all these uploads, it's time to reveal the Featured Download. Like I said when I mentioned Sacrush's level, FireSworD also entered the Unusual CTF Challenge. His level is called Unconventional Coffee and it has very interesting stuff.
The goal of the contest was making a high quality CTF level that has unusual things that you don't see in a lot of CTF levels. Some things this level has: death pits, fly carrots, 3 Full NRG carrots(1 in the bonus) the bonus where you can choose what flag you go to, 5 Power-Ups and one of them is Ice(which is useful in Pitfall levels) and coins.
The main goal of the level is letting others fall in the pits at the bottom. They're easy to avoid, but with some Ice it can become very evil and strategical. The level has a pretty vertical layout, and the bases are easy to camp. However, that can be countered with the coin warp. Because the level has 3 Full NRG's you can't roast someone with normal weapons easily, and the level has almost no RF ammo. The main way to roast someone here is by letting them fall in the pits. The coin warp needs 20 coins, which is not too hard to get as there are four gold coins in the level and 8 silver coins. The other ammo placement is also good, and some food has been added as well.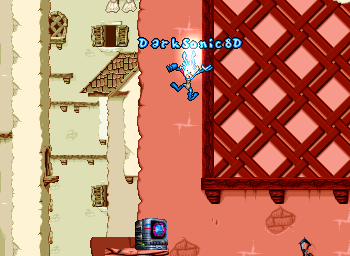 While the eye candy in the level is not spectacular, it's still good enough. In the contest eye candy was not very important. The background gives the level a nice feel(like you're playing in a city) and other stuff is just fine.
While the layout of the level is pretty easy to learn, it's hard to play in this level sometimes. There is a lot of strategy and it's just a very interesting level that's hard to master.
The ones who reviewed this level have already said most things about this level, this level won the CTF contest and that's the reason it got the Featured Download. Next month there will be more good uploads, like more levels for the Battle Contest.