Jazz2Online news for August 2018
Source: so this one page on bandcamp
Last week a group of Hungarian music artists teased us with their 20th year anniversary album and promised to release it very soon.
And so they did!!
So get your green, red or yellow floppy ears a feast of sound and enjoy some
awesome tributes & remixes
of your beloved game.
Source: JCF thread
JCS has always provided us with such so much easy-to-use power that there's never been much of a drive to create fangames for Jazz Jackrabbit, and the introduction of AngelScript, like such earlier additions as Karrot Shire, have only served to further solidify the place of Jazz Jackrabbit gameplay experimentation as firmly inside of Jazz 2 (and very occasionally Jazz 1) itself. The only Jazz fangame to be finished and reach any level of prominence was et's Jazz Ski Rabbit in 2001, which justified its standalone executable status by mostly eschewing platformer gameplay.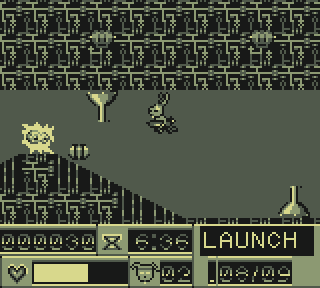 And yet, not so with Bun & Gun, a "a high-speed run-and-gun platformer where you play as Bun E. Bazooka in an attempt to save the Jade Kingdom from the vile clutches of the surprisingly-vampiric turtle Shelltopias Turtatory Von Turtula." Created by happygreenfrog for the Demake game jam, Bun & Gun stays carefully on the friendly side of copyright laws while recreating most of Jazz 1's shareware episode (Diamondus/Tubelectric/Medivo, with their full array of weapons and enemies included) within an even smaller resolution and a four-color palette. Download today!
Source: Bandcamp
Did you forget that 2018 is the 20th anniversary of Jazz 2? Well, Hungary didn't! In just over a week, a team of musicians from Hungary (including community member tazar) will release a free Jazz 2 tribute album of nine different remixes on Bandcamp:
It's been 20 years since Jazz, the green jackrabbit has returned with his sidekicks to take blastin' revenge on the evil turtle Devan Shell and his nasty minions. Since then, Jazz Jackrabbit 2's popularity has been on the rise and its legacy has not just been kept alive up to this day but enriched by its fan community.
To celebrate the two-decade anniversary of this shiny gem of classic platformer gaming, a musical tribute album has been arranged by various Hungarian artists. This collection is an expression of appreciation towards Jazz Jackrabbit 2 and its creators, especially Alexander Brandon, the composer of the game's remarkable soundtrack.
You can listen to previews of the tunes right now, along with some nifty JJ2-styled animation.
Source: JJ.net news post
This weekend marked the finals of 2018's National Tournament, the semi-annual JJ2 tournament for national teams hosted by jazzjackrabbit.net.
This year's finals were a real thriller – both teams went the distance and it took 7 (seven!) rounds for Egypt and The Netherlands to decide which of them Would be The Star of this National tournament. In the end, Egypt came up on top, delegating The Netherlands to the second place, just in front of Serbia which placed third.
Take a look at the announcement on jazzjackrabbit.net for the full results and more details!
Additionally, JJ.net has announced a level making contest in preparation for the upcoming ladder season. If you want to see your own level played online, this is an excellent opportunity.
Source: JCF Thread
It's time for some single player! Primpy's Summertime Jazziness level contest is just wrapping up, challenging community members to make single player levels "with emphasis on things that are related to summer and the summer holiday. There are a lot of possible themes for this: the beach, mountain trips, pool parties, the exaggeratedly hot weather and so on." Now the entries are in, featuring blazing hot Texas skies, sunflowers and rolling sand dunes, a solar eclipse, and an artificial summer brought on by Devan Shell himself.
Download and play through the new SP levels, then go to the voting thread for the (simple) instructions for how to vote.
Summa Summa Summatime!
Source: JCF thread
Until today, there had been only nine known screenshots taken of Jazz Jackrabbit 1 before its release. featuring such oddities as different character sprites, a different HUD, simplified ammo pickups (explaining the references in the game's manual to "red orbs," "green orbs," etc.), and indications of a different planet order.
New magazine scans from PC-King, however, almost double that number, with seven new images from a never-before-seen stage in Jazz 1's development, appearing to have been taken earlier than almost every other known screenshot. Check them out!