If you are able to provide very good uptime and reliability, you are generally trusted by the J2O staff and are willing to share your computer access with other (trusted) bash admins, please see the JCF topic on this subject.
February's Featured Download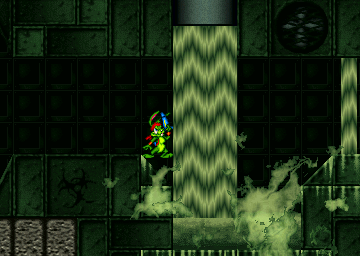 Waste Treatment Facility by cooba
For some people it was just a matter of time till this tileset would be released. Well, just before it became March in my country this tileset was uploaded. I had seen one palette of it and I have seen some screenshots and I was pretty impressed.
The tileset has four palettes. Acrid is obviously based on acid, Borealis is supposed to be something really cold, Crispy is something like lava/fire and Deadly is based on death.
The tileset has enough eye candy to create, and the best thing is that layer 5 doesn't have to be used for that. Most of the eye candy can be made in layer 4. The things you can make are: pipes/tubes, buildings, waterfalls in different colours, a moon, black and white tiles etc. Enough eye candy to get creative with.
It's also pretty easy to use. The example level might be needed when you just started a level, but after a while this tileset gets fun to work with. It's easier to use than the other sets with almost the same theme. This tileset will probably be used a lot in the future, and the levels created with it should also look good.
The runner-ups from this month are the 5000th upload Rumble in the Bogs by Superjazz and DarkSonic and the long awaited Legends by Purplejazz, that almost got the Featured Download.
This month had some great uploads, and this year already has some great tilesets and level packs. Who knows what will be uploaded next month..