Jazz2Online news for November 2005
OpenJazz

-

November 30th 2005
Source: JCF thread
Toxic Bunny has posted a look at an open source implementaton of JJ1 that he is working on. It is currently in its early stages and has a large number of bugs, but is still playable. Since it uses the jj1 content, you will need a copy of it to play this. The source code has not yet been released, but as the name of the project suggests, it will eventually come.
See the thread for more details.
Okay, well this is my last featured download post before I retire… I'll be passing my job on to someone else after this, because I just don't have the time or motivation to continue doing this.
October's featured download is Rebirth of Evil, by EvilMike. It's the sequel to his previous pack, Invasion of Deserto, which was also a featured download.
Rebirth of Evil takes single player to a whole new level. While playing it, you might even forget you're playing JJ2. You'll be doing things you've never done or even thought about doing when playing this game, such as avoiding lasers that activate a turret system, walking through a toxic rooms that do damage over time, and even becoming a frog to get under a low ceiling.
Unlike Invasion of Deserto, Rebirth of Evil takes place mostly in space, as you can see from the screenshot I included. You'll have to revisit levels in this pack, much like you do in most modern games. There are also two separate endings to the pack. You're faced with a difficult choice near the end, and depending on what you do, you'll get one of two endings.
This level pack is also very difficult, it might be one of the hardest things you've ever done in JJ2. You'll definitely get well over an hour of play time for this, so download it now and enjoy it.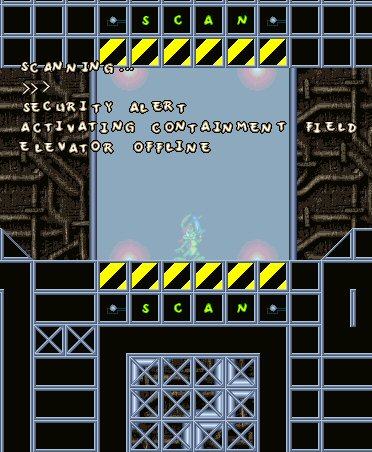 Source: JCF Topic by Doubble Dutch
Artist Mazedude has made a tribute to American video game composers in which songs from various games are remixed, calling it The American Album. The first song on the album is a remix from the "Water Level" in JJ2 by Alexander Brandon. Elements of other Brandon songs such as "Universe Electric" and "Carpe Diem" also appear within the song.
The entire album was released online for free. You can download the entire album at once or certain tracks on this page. Some other remixes appearing on the album are from Earthworm Jim, Commander Keen, Doom, and Myst. Commentary on the tracks is also provided. As Mazedude was gracious enough to release this album for free online, donations are encouraged.
The new version of JCS94 has been released. JCS94 is the first and only Jazz Jackrabbit 1 editor out there. It has a lot of neat new features. This release was all about making things easier and usable for everyone.
[11/14 22:35 A small fix has been uploaded.]
Visit the website, and go be sure to give it a try. Download it here.
Source: NickPOL and Trafton
*** UPDATE – Initial results seem to have been a false positive. The files appear to be clean. -Trafton ***
Just to be clear, although it should be clear to anyone reading this post, the user mentioned was not at fault at all and did nothing wrong. There was no other way in my opinion to handle this issue, users had to be warning, but it's a regret that due to false positives by virus scanners someone's name ended up on the frontpage like this. – FQuist
---
Tests run on several programs by Gunout have resulted in inconclusive results for Trojan horses. This does not mean that Gunout has done anything wrong. We are simply being careful with these inconclusive results and have submitted them for further analysis.
If you have downloaded one of the following files, please do not run them at this time:
| | |
| --- | --- |
| Online Race | (UnlockRace.exe) |
| Online Race | (jj2rugunout.exe) |
| jj2 hidden colors | (j2color.exe) |
| Online Cooperative Game | (jj2cap.exe) |
| online cooperative play | (jj2captsf.exe) |
| JJ2 Speed Unlocker | (jj2speed.exe) |
If you have ever ran any of these files, please contact Trafton for investigative purposes, via PM, MSN Messenger, or AOL Instant Messenger. If you have formatted your computer since you ran these programs, chances are that you are safe. It is not necessary to format your computer to remove the keylogger if there is one, though.
This may very well turn out to be much fuss over nothing, but nothing is definitive at this time.
Another poll gone…

---
At the moment, what is your opinion of the Earlong Royal Encyclopedia Wiki?
I don't like it very much. – 4 Votes (5%)
It's okay, but people need to post more stuff in it. – 32 Votes (39%)
It's good. – 16 Votes (19%)
I love it. – 8 Votes (10%)
I love it and am a frequent contributor, but we need more help on it. – 7 Votes (8%)
It's too full of incorrect facts and I am too proud to fix them myself. – 1 Votes (1%)
I've never heard of it. – 9 Votes (11%)
Other (specify) – 6 Votes (7%)
Total votes: 83

---
The people have spoken, and they need to use the encylopedia more! I guess it's good to see I'm the only proud person in the community.
With everyone falling in love or getting married these days, it's about time that Jazz 2 Online dealt with the touchy subject of relationships. And so, this new poll asks the ever important question…
Which Jazz character would you most like to have as your boyfriend or girlfriend?
(Poll concept created in correspondence with Lark. To support him, vote for the rat!)