Jazz2Online news for April 2014
Source: gamer.nl
With the easter in mind and that they have specials about older games. The most popular Dutch gaming website Gamer.nl has written a special about our green hare.
They talk about what happend with the JJ2 dev crew, what the game is about and what you can do.
Also they applaud that the game still works in 2014 and that there is even a dedicated webpage/community in JJ2.
It's pretty neat and if you are Dutch go give it a check.
This was posted on RabbitJournal on April 21st 2014. You can post, too!
Today is the 16th anniversary of Jazz Jackrabbit 2! Time is a cruel mistress indeed. FQuoth the Quist, from 10 years ago:
The Jazz2Online staff is happy that the game has lived for so long and wishes Jazz Jackrabbit 2 a happy birthday and of course hopes for many more to come.
Remember to join the Anniversary Bash, starting this Friday! If you do, make sure you have JJ2+ installed, since it is a requirement.
Source: JCF Thread
It's that time of year again! This year we're celebrating the sixteenth anniversary of Jazz Jackrabbit 2. The details are not totally finalized yet, but Bash is tentatively scheduled to start at 16 GDT on Friday the 11th and last through sometime on Monday the 14th. No word on whether the Battle and CTF servers will be running simultaneously or not (doubtful?), but if you have suggestions for the level list, make them here or in the appropriate thread. Set aside some time on your calendar for the next weekend… Bash is traditionally a time for seeing players you don't see every day, and even if that doesn't happen, there should be good levels and good fun to be had all weekend long. Or if you have your own ideas for how to spice up the event beyond two multiplayer servers alone, it's not too late to suggest things!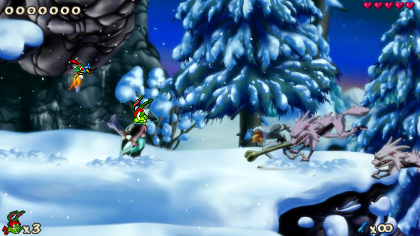 Source: GAME_JAM season 0 episode 0 airdate 1970-01-01

Beloved gaming titan King©®™ have purchased all rights to Atari/Starpath Supercharger game Rabbit Transit (1983), previously notable for featuring substantially more mammalian reproduction than Custer's Revenge (1982). Based on this acquisition, King©®™ are presently applying to trademark the term "rabbit" in all gaming-related endeavors, in order to sue Arkedo and Sega over Hell Yeah! Wrath of the Dead Rabbit (2012).
However, a bright-eyed and bushy-tailed intern at King©®™ noticed that there exist other games with the word "rabbit" in their titles made after their 1983 game, and so King©®™ threatened Epic Games with litigation if they did not immediately cease selling any and all games in the Jazz Jackrabbit series.
A spokesman from Epic Games eventually explained to King©®™ that Epic have not sold any games in that series at any time in the present millennium. At this point, all threats were abandoned.
Also, Rabbit Transit probably ripped off Q*Bert or something but I mean who cares.