Jazz2Online news for September 2007
jazz 4 over online ? what online
jazz jack rabbit 4 is new
edit boss dog
jazz 4, jazz 5, jazz 6, jazz 7, jazz 8,
jazz news and jazz jack rabbit kill.
This was posted on RabbitJournal on September 16th 2007. You can post, too!
It took a while, but there's now a new ranking system not based solely on number of reviews. See Reviewer Ranks to learn more.
In addition to that, users are now allowed to write quick reviews, as originally suggested by Lark (Labratkid) here. This means that reviewers now have the option to reviews without any explanations. Quick reviews just aren't worth as much as normal reviews, and they don't count towards a reviewer's rank. For more information, see Review Rules.
How the Download Information page is displayed was changed a bit, as well as several other pages not worth mentioning. Also be sure to take a look at the Top 40 Reviewers and see your competition!
Source: JCF thread
r3p (R3ptile), renowned for the numerous JJ2 tournaments he organised, has decided to hold something special for this Saturday (Sep 15th).
Mappool CLASSIC:

* BloodBunny's Lair (BBLAIR)
* Diamondus Warzone (DW)
* Happy Semiconductor CTF (Semi)
Go post in the thread if you're willing to compete

I have started a blog focused on JJ2, where I will be reviewing noteworthy JJ2 levels from throughout the history of the game. I'll try to update it at least twice a month, focusing mostly on single player episodes. At first I will be making posts on a chronological basis, starting with stuff from 1998 and working up to the present. Eventually I'll probably start deviating from that formula though.
I'll also be using the blog to post about my own projects, though those posts will be done in a different way from the normal review posts.
The first review is already up. I chose Wakeman's Peach Beach, since it's a very old level and I thought it would be a good starting point.
Please tell me what you think of this, and what you think of the format of the reviews and so on. Posting comments on the blog itself will probably get my attention quicker (no need to register an account), but you can post comments here too.
This was posted on RabbitJournal on September 11th 2007. You can post, too!
Source: laziness/lack of time of certain administrators(!)
After a little less than six weeks of competition and active play, the 13th season of Jazz Duelist's Challenge has come to an end.
Congratulations to vegito, who won this summer's season with 2009 points on the record. By this victory, vegito sets a record of most (three) JDC seasons won by a single person. It's also worth noting that all of the three seasons have been consecutive, so the record is double as much to be proud of :)
This season's awards are already available on the JDC site. Congratulations to all the award winners and competitors!
August's Featured Download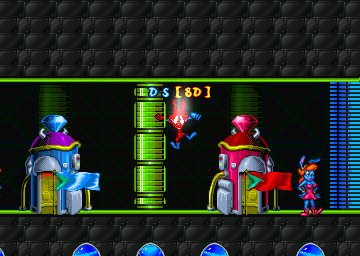 Substracted Space by Birdie
This month's featured upload is Birdie's new CTF pack, Substracted Space by Birdie. The pack comes with 6 levels.
Sub Junction 3 has a few interesting things about it. One of them is the base placement. The bases are placed in a 'cross' and you can get the flags from two sides. The tileset used is J2LC Alien Space Lab, and the eye candy is the best I've seen with this tileset so far. Although the level is asymmetrical, it's still balanced. The level has warps too, and it's not so easy to learn. Ammo placement is nice, and there are some bananas added to fill things up.
Fluid Surface Oscillator is another assymmetrical level, with a twist: you need to be frozen in order to get to the flags. Only if frozen will you be sucked up by the tubes. This makes the bases hard to camp, although with Jazz you can have some fun by using copter ears from the top. This gives you time to get ready to score for a few seconds, but can also be used for defense. The level is easy to learn due to its pretty simple layout and the eye candy is good for the tileset.
Temple of Hakkar! is a huge, almost symmetrical, level with a tileset that's hard to use. The bases are placed in the mid-air, and there are two ways to each base. The level is pretty dark, which is why a light version is included as bonus. The tubes at the bottom and sides are useful, and the eye candy is good – especially the eye candy at the bottom. With 3 Power-Ups, 1 Full NRG and 2 +1 carrots this level is pretty fun to play.
Torch Wood is another unsymmetrical level boasting a 15 second shield. The level is special: there is a Full NRG carrot and it can only be retrieved when you have the shield. Entering the warp in the middle will lose you 5 seconds due to a construction with hurt events. There are 2 +1 carrots too, and the level makes use of MCEs. The level is smaller than the previous levels, but it has 3 Power-Ups as well. The eye candy is just good, not much to say about it.
SandBox makes use of wind events and pits. Additionally, it has a coin warp. 20 coins will enable you to get ready to score by warping to the 'box' above the enemy base. The level looks semi-symmetrical, and it has a few gun crates, 2 Power-Ups that are close to each other, coins, fly carrots, and great eye candy. There really isn't much to say about this level, just see for yourself.
Wormhole Checkpoint 18C is the last level of the pack, and it uses an edit of JJ1 Battleships. The most interesting things here are the gravity and the bonus. If you are at the bottom of the level you will be warped and then the everything looks like it's upside down. So if you jump you 'jump down' you have to play the level to know what I mean. Then comes the bonus. For 20 coins 'you feel ethereal' that means you can walk through walls. The bonus ends when you hit a base, and it lasts thirty seconds max.
This was this month's featured download, hopefully next month we will have more great uploads.
This month's runners up:
Runners up for this month were the unfinished Impressive Flashback and Ragnarok and DarkSonic's level called Caves of the Arabic Ninja.