Jazz2Online news for November 2008
Source: JCF thread
Our #1 JJ1 fan, Newspaz, announces his new work in progress: an editor for JJ1 content. Unlike JCS '94, which had the ability to modify only JJ1 levels, this tool appears to be quite a whopper:
Features worth mentioning:
- Animation sequence editor (no sprite editing)
- Special behavior editor (bees, and other enemies)
- Event editor with sprite preview
- Attack editor (change ammo sprites and shot speeds)
- Sound editor (change sound names and pitch)
Interested in beta testing? Contact Newspaz in the JCF thread.
BlurredD has released a new version of JJ2+. There are no new gamemodes in this one, but there are a lot of bugfixes. The biggest thing in this release is probably the addition of mp3 support (among other formats).
You can get JJ2+ here.
Here is the written petition.
Here is the edited version.
Here is the edited version.
Here is the edited version.
Here is the edited version.
Here is the edited version.
Here is the edited version.
Here is the edited version.
Here is the edited version.
To:
Cliff Bleszinski
We the united members of Jazz2Online have banded together to write a request to ask you become involved in the potential making of Jazz Jackrabbit 3.
We know you may be tired of working on it, but we at J2O are waiting patiently and eagerly to see your work. We want you to know that Jazz Jackrabbit has in no way died out and is still popular as ever. Another game would only fuel that fire, which can't be bad for Jazz. We appreciate all that you and Epic Games have done to create the JJ universe, and respectfully maintain that you have every right to just say "no" to our petition.
You may be asking yourself right now "what're they up to, and why haven't more people signed this?". These are, of course, valid questions. Only a handful of people HAVE actually signed this petition, and still many more HAVEN'T done so. It is their right to abstain from supporting this, in fact it just proves that J2O is not some big narrow-minded faction. We believe that the mean green hare still does hold some small place in our lives, but some disagree about just where that part is. And why shouldn't they?
We may not all agree to sign this petition, but the fact that it has survived this long shows us that maybe JJ3 COULD have a future. Indeed, many people did not sign this because they felt it wouldn't do any good. Will it do any good? It doesn't matter that the last game or two in the Jazz universe didn't do so well. Those were different. And in fact, we believe that if you conduct a new survey, you will find out just how well-loved and successful Jazz really has been. In our book, it was not a flop. It's among the best out here yet. We want JJ3 to continue, and are ready and willing to aid in the cause. We declare that the insatiable desire for a new Jazz game is tremendous, and we wish to see it come to pass.
We feel the need for new material, something to grab us. In other words, we don't want a cheap shoddy work of crud. We want the real deal, the very best Epic has to offer Jazz Jackrabbit. Please satisfy that desire. We are in no way attempting to sound ungrateful or greedy, but we just don't want a cheap 2$ copy of a fangame. Not that fangames are bad. We know that if you do decide to do it, you will surely give it your best go, and we trust that you will give any such projects your best judgement, whether positive or negative, and respect whatever decision you may make.
To this end, we have gotten as many J2O members [who share this view] as we can to sign the end of this petition. Please do not ignore us. Make us proud to be Jazz Jackrabbit lovers! We are forever indebted to you for creating Jazz, and for [possibly] continuing his legacy.
Signed and written this day of November 15, 2008
Revisions on 11-16-08, 11-29-08, 3-21-09, 4-6-09
Sincerly yours,
PT32
Jimbob
Sonicnathan 1
Angie
Cooldude31
(Send PM or a comment if you want to have your name on there.)
This was posted on RabbitJournal on November 16th 2008. You can post, too!
Source: ShackNews interview with Cliff Bleszinski
I'll tell you what we're not going to do—we're not gonna be making a Wii game, we're not going to be doing an Xbox Live game, we're not going to be doing Jazz Jackrabbit, we're not going to be doing a fucking puzzle game, and we're not going be making a Gears of War RTS.
:|
Source: JCF Thread
With Ragnarok's Domination contest only just over, PurpleJazz announces a new level making contest:
Time to get into the Christmas mood for another year! To increase the spirit of the community, looks like it's time for another contest. =P Here comes my 3rd annual contest, and this time as the name suggests the aim this time is to make the best Christmas/holiday themed level.
So, the goal is to create the best holiday-themed level. Deadline's December 20th, so plenty of time for you to come up with something great. Check out the JCF Thread for the contest rules and other details!
October's Featured Download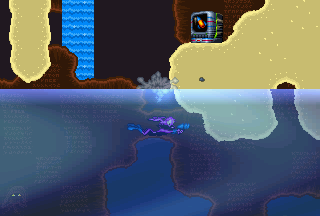 Pearl-Shell Shore by Quickz
This level is so good that it managed to not only get a first place in a contest, but it also worked its way onto J2O's frontpage this month! Quickz attempts to bring the JJ2 players to a relaxing seashore – a theme not seen before in this particular tileset – and does it very well. This level looks lovely, and if you disagree, "youre just jealous".

The layout here is complex, but you won't get lost easily. This level isn't exactly big, but you won't feel cramped anywhere. And while Domination is a very new gamemode to JJ2, Quickz wastes no time and already explores its gameplay possibilites. If you're looking for smart, tactical combat, Pearl-Shell Shore is just what you need!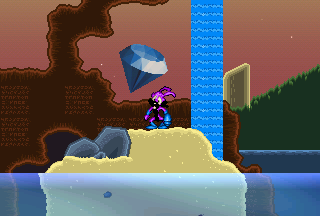 Download this level now, and dominate away!