Jazz2Online news for December 2008
J2O's staff wishes you a merry Christmas, happy Hanukkah, happy holidays and a great new year of jazzing fun!
edit: and kwanzaa (note by FQuist: I AM SORRY FOR FORGETTING :'( )
ho ho ho

-

December 18th 2008
New JJ2+ gamemode must be:
Assault
24 votes (32%)
Ground Force
11 votes (15%)
Invasion
11 votes (15%)
Onslaught
7 votes (9%)
Hotel
22 votes (29%)
Total votes: 75
The people have chosen – go code, BlurredD! I'd also like to remind that if you're willing to play some more sophisticated gamemodes, JDC is up and running, along with its trademark events.
With the holiday spirit et al. floating around, the next poll asks you where'd you prefer to spend your winter holidays?.
Source: JDC
JDC Season 16 has officially started! You should now be able to submit duels and 2 on 2's. Also be sure to attend the opening event, happening today.
Note that the event may very well be a full server. If this occurs, then players will participate on a first come, first serve basis. If you find the server is full you are welcome to try and join periodically, since you can still get points for joining late.
If a very large number of people wind up missing the event due to server capacity, another event might be hosted on Sunday for those who miss the Saturday one.
This will be the last JDC news post made on J2O until the end of the season. For future JDC news, please visit the JDC site. You can also adjust your panels on J2O to display a box that shows all the latest headlines.
Word's on the street that registrations don't work. That was the case indeed, until 30 seconds ago.
In other words: registering new accounts works again. We apologize for the inconvenience.
[BREAKING NEWS UPDATE: It seems the system is still broken, just marginally less broken than before. Don't worry! It will be fixed, eventually. -EvilMike]
Source: JDC
A new JDC season should be starting soon for this winter. The current planned date for it to begin is the weekend of the 13th/14th, and it should run for the same length as an average season.
So far we've got everything in order, and the site itself should be updated for the new season sometime in the next few days. Throughout the next week we'll probably also be making small changes to the site in preparation. One of those changes will of course be the obligatory new logo. At the moment, we're not planning on running a new logo contest for this season, but if you have any suggestions or feel like contributing, feel welcome to. Otherwise, we have a very special logo prepared already.
Also of note is that this season will be the first to feature domination as an official game mode. Expect at least one major event to focus on DOM.
Another news post will be made once the site is up and running. Once that happens, you should log in so your account is marked as active for season 16.
Update:
The site is now operational. It would be a good idea to log in now, so your account is marked as active. Note that we are still updating various parts of the site, so various things will change over the next week. This includes the logo.
November's Featured Download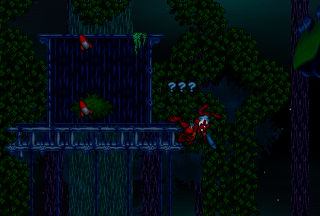 Memories 2: Radiant Garden by Hitch
Hitch brings J2O a brilliant new pack, which consists of four party-sized CTFs and as a bonus level, a new Flag Run level too! All of these levels are clearly designed to a very high standard and are sure not to disappoint, ranging from exillerating themes to very interesting gameplay. These levels all clearly look amazing, and there's no denying it.
Probably the best thing about these levels is the fact that you can survive easily if you tried hard enough, as you should be able to do in any good CTF, just because of the clever use of events and layout within the levels. If you want any intense games, these levels are the places to do it.
What're you waiting for?