Jazz2Online news for January 2009
Source: Downloads
Newspaz has just released a new editor for making JJ1 levels. You can find it at the link above.
While it's true that we already have an editor for just this purpose, this new editor carries a number of features that the old one does not, and has a better, more professional interface overall. One of the great things about this editor is it actually feels like JCS, although it's not a clone of it or anything.
The program seems to work fairly well on different operating systems, so it's not just limited to windows. Unfortunately, documentation is limited right now, so you will have to learn by experimenting. Knowing about JJ1 and knowing how to make levels in JCS would also probably help. Doubble Dutch has released some initial documentation, mostly for events, which should make using this program a lot easier.
December's Featured Download
Better late than never… eh?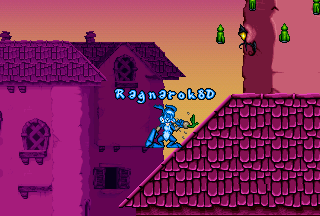 Codename: Alliance by Xtreme Level Makers
XLM's more active members, Darksonic, Purplejazz and Snooze bring J2O a massive pack of a whopping SEVENTEEN levels to Jazz2Online, ranging from Capture the Flag, to Battle, to Domination. Such a group pack is quite amazing, and this quantity is made even more interesting by the quality of the levels. Most of which have a great style and won't dissappoint in any aspect you may be looking for.
These levels are great for small games as well as party-sized games, and are a decent addition to anyone's levellist. A massive download reccomendation, and seventeen thumbs up to each of you. [See what I did there? Genius eh?]
Go on, press download!
Source: JCF Thread
Word from the forums says gargantuan gaming site IGN wrote a nice piece about that one green bunny you might encounter while browsing this site.
It's a nice write-up of the series' history, and though you probably won't learn anything new from it if you've hung around here for a while, it's cool to see the Big Sites paying some attention to The Rabbit Formerly Known As Prince Earlong.
The nominations for the JCS Awards 2008 are in! Go vote!