Jazz2Online news for February 2005
Source: DrJones
DrJones' Lori Central was easily one of the best Jazz Jackrabbit sites around when it was still actively maintained, and it's still a great archive with cool goodies. Now, for the Lori Central archive to remain alive, DrJones needs your donations. Just $35. Find out about the details here. The thread about the donations is here.
There will be some scheduled downtime for J2O starting at 12:30 am Saturday morning EST and lasting until Sunday at most. Our files are being migrated to a different server and the J2O staff does not have any control over this. Have a good weekend, everyone.
FQ: Watch out with what you post, it may get lost in the transfer. In case the transfer goes wrong all uploads and databases have been backed up but data made after the backup might not get moved.
Bobby: The move should be complete now and I do not think that anything was lost. If I am wrong, please let me or another administrator know.
It had to come sometime. And it just so happens that it came about two weeks late. As you guys probably were guessing, January's featured download is BlurredD's updated Survivor pack.
This pack brings back all 25 original survivor levels that made ET's gametype, GroundForce, so popular. Also included are five amazing brand new ones, such as Pinball Anomaly, and Avalanche Ranch. These aren't just any bland ground force levels, though. BlurredD adds in his witty sense of humor to make this an extremely enjoyable level pack, as you can see in the screenshot I included.
The main concept of Ground Force is not to fall off the playing area. The last person standing wins. However, unlike the infamous gametype, King of the Hill, the terrain is destructable, making players constantly on their toes, having to jump to safety at any given time.
Here's a screenshot of me going for a crate in the level Pinball Anomaly, completely unaware that it was a trap.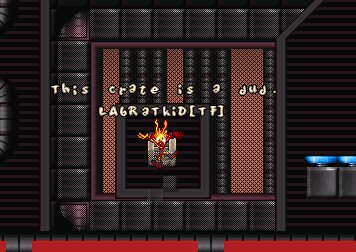 You can download this level pack here.
A while ago Alienator sent me all of the old UniverseJazz website. And I took the time for you all to go through every single download and figure out what it was. The result can be found here.
You might find one of your downloads missing. That's because I haven't added all packs yet. They'll probably appear somewhere next week. If you've got any corrections to my list please send me a private message :-)
I'd like to thank Alienator again for sending me the material I needed.
Source: JCSref
I'm the new admin for JCSref, so hopefully the site will see some activity soon. I've already added two articles I've written from J2O, and with a bit of luck there'll be more soon.
If anyone would like to submit an article to the site, there doesn't seem to be an automatic submission form, so contact me (or, I guess, the rest of the staff) using private messages or something.