Jazz2Online news for May 2005
This month's featured download is TilesetPal, by Monolith.
It's a great program. It fixes one of the most annoying problems you'll face while making a tileset – color reduction. Unless you're really good at it, color reduction will result in one of three things – a slightly worse looking set, a much worse looking set, and a downright repulsive looking set. With the help of TilesetPal, you can make a slightly worse looking set in a matter of minutes, palette events included.
I tested this program on a tileset that used about 6,000 colors, and it looked almost perfect when finished. It took about two minutes in all, too. With this program, not only can you do easy color reduction for tilesets, but it will also help to make basic palettes for your sets so you don't have to do the annoying copy & paste work with other programs. This means people no longer have an excuse for not including palette events in their tilesets. Yay! =D
The only major problem I found with this program is that it has somewhat buggy .pcx support. I loaded a .pcx file, and it got completely distorted. I converted it to .bmp and then it worked fine. Also, having to download that file from Microsoft was an inconvenience, but nothing too bad. I can't say the same for people with 56K though, since the file was 20-something megabytes.
In conclusion, this program is the best thing to happen to tileset makers since DTR. Quick and easy, useful, and it works great. Couldn't ask for more.
Click here to see an example of how well this program can work. The quality of the picture's not so good since it's a .jpg, but it should give you a basic idea of what it can do. The image on the right in the screenshot could, at that state, be used as a tileset in JJ2, while the one on the left has too many colors. See much of a difference?
Fawriel has created a deviantART (an art site) group for Jazz Jackrabbit fans. Go to http://jazzjackrabbitfreaks.deviantart.com/ to get there. The site features links to the personal pages of the group members, where the member's art is collected. There's Jazz-related art in there too, naturally.
The group will try to recruit Jazz Jackrabbit fans who are not part of our community yet, in order to grow our community. You can find a contest to create a logo for the group on their main page. A JCF thread for the contest can be found here.
Source: Haze's Hideout
Haze's Hideout is six years old, and it's received yet another redesign. Go check it out!
Source: JCF Thread
Anims.j2a has been broken into again, and this time the breaker is willing to show everyone what's inside. Go here to view the sprites used for Tweedle, the Butterfly enemy, TNT crates, and more.
Update: You can now download a tool to find your own sprites in anims.j2a. You are still suggested to read the topic for more information.
Cracco Clan has won the second Jazz Jackrabbit 2 World Championship, with a win from VS with a wide margin (16-6), and a succesful runup to the finals without a single loss. Congratulations, CC.
It was a tournament with a lot of unexpected happenings. None of the clans that made it into the final four last year managed to reach the finals this year. Only one of them managed to even reach the semifinals this time. TF, FoR, DM, GpW and [si] all failed to come as far as they did last time. VS and CC  however, played a great tourney.
It was a fun and entertaining tourney, in spite of a few problems. Cheers to R3ptile and the rest of the team.
Note: If you want to talk about CC in the comments, you might get an error message from our server. If you call the clan by its full name it works.
Source: JCF Post
JDC is starting up soon, and we need a new logo. We've decided to hold a contest of sorts, with anyone allowed to participate. Draw a logo, submit it, and if it is good enough your artwork will be featured on the JDC site for at least a season.
In this thread you may find the exact rules.
Source: Haze's Hideout

The history of the popular JJ2 site Haze's Hideout is full of site redesigns, but it seems another is coming up. It's hard to tell much from this small screenshot, but the addition of Spaz is welcome. Hopefully this time around all of the content will be working – anyone remember J2Ov1 and the "Characters" circle?
More news as things develop!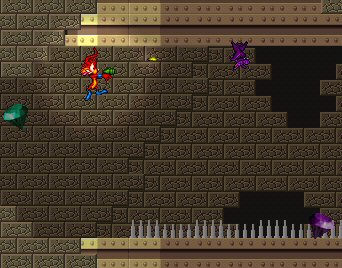 The Invasion of Deserto, EvilMike's new single player level pack, is a new classic. The story behind the pack is very simple, yet it's one of the better stories out there. It's not another "Devan kidnapped Eva, go save her." Nobody saves princesses these days, anyway. Mainly because they don't get kidnapped anymore. Anyway…
The Invasion of Deserto is a very unique level pack because it attempts to mix puzzle, action, and obstacle crossing elements together. You'll never know what the levels will throw your way next. This makes the pack very hard to beat, but not so hard that it becomes frusturating. The perfect degree of difficulty in a computer game.
This level pack experiments with having you go back through levels that you've already visited to find new areas and challenges. For example, you'll return to The Temple with a fly carrot that you find in The Pit. The music is carefully chosen, and while it doesn't always fit perfectly, EvilMike managed to choose some of the best tunes out there.
Above is a screenshot of me heroically killing a purple bat. And for those of you who absolutely must know, the shot ended up killing the bat. It dropped nothing. How depressing.
ADVERTISEMENT
: Don't download my new tileset, it sucks.