Jazz2Online news for April 2006
Source: ToxicBunny
If you've been around in this community since the days of Jazz2City, you may remember the brief but certainly funny "Butt Ugly Level Of The Week" series by stripe. Every week (in fact the original series only lasted two weeks) stripe would throughly analyze the worst level he encountered that week. Ofcourse he provided juicy details and a download link. As said, though, the popular series came to an end in 1999…
…to be revived today. ToxicBunny, also known as AlisterT, decided to post a new issue at his own site. With the recent forwarding of the list servers a lot of players have discovered online play, and this ofcourse lead to a massive amount of BULOTW candidates. Read more about ToxicBunny's final decision at the BULOTW site: http://www.alister.eu/jazz/bulotw/.
Nimrod has arranged that the long-defunct list.jazzjackrabbit.com (which the game defaults to) redirects to the current listserver by speaking with Warren Schultz, Systems Administrator of Epic Games. What this means is that JJ2 online multiplayer should now effectively be playable, "out-of-the-box", no longer needing to be patched with the current listserver information.
In addition to greatly simplifying the process of playing JJ2 over the internet, this may also make the game attract new players. You also shouldn't have to worry about updating your registry, since the listserver itself hasn't changed at all.
We should all thank Warren Schultz for doing this for us, and Nimrod, who was able to contact him and ask him to do it.
Update: Warren says "No problem. It should be noted that Cliff and Tim were instrumental in making sure that this happened :)"
News has always been a little slow for jj2, and it seems like a lot of things deserving of attention go unnoticed. This is especially present in the downloads section, where a lot of very good content goes ignored.
To try and remedy this, we are going to start making news posts relating to good content in the downloads section. This will not be a regular "feature" like the featured downloads, rather, this will simply be news. Any downloads that are of high quality, good effort, or anything else like that, will be deserving of mention in the news.
Hopefully, this will make more people realize when something good is uploaded, and encourage more people to review it. I've made this news post just to get the word out to people, since j2o hasn't really done this in the past and I want everyone to know what's going on.
Please post any questions or comments that you have.
Hope you've had fun. Do leave a thank you note for the bash team. Nimrod set up and hosted the dedicated server, Cooba assembled the level/tileset packs (with community suggestions), Overlord provided "Console" and Monolith and FQuist made sure the bash kept running smoothly.
And of course, thanks to everyone who joined in.
Nimrod posted some statistics about the server connection this weekend:
The Bash Server Generated 1.1gb of Traffic (inbound and outbound) 760.5mb was sent from the Server 382.1mb was sent to the Server Of which 973.8mb was

UDP

Data (Player Movements)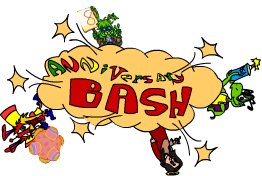 Logo by n00b. Logos and wallpapers here
Hosting Capture the Flag bash right now
What is the Anniversary Bash?
The Anniversary Bash is a 3-day celebration of Jazz Jackrabbit 2's eighth Anniversary. A server is hosted to play on during the anniversary, which is called the Anniversary Bash.
And the bash is ON!
Have fun playing at the battle bash! Remember to download the packs (see bottom of post). The packs have been updated now, so please re-download, or you will not be able to join.
Bash times
The bash will start today, at 2 PM GMT.
Times for some of the different countries and timezones:
Britain: 3 PM/15:00
The Netherlands: 4 PM/16:00
Israel: 5 PM/17:00
EDT: 10 AM/10:00
PDT: 7 AM/7:00
Get the official packs
These were assembled by Cooba, with help from several people for suggestions.
Level Pack (CTF and Battle)
Tilesets part I – Tilesets part II.
Please do download the levels and tilesets before playing. If you do not have these, you will not be able to play, and will receive errors when trying to join the server. Unzip both zips into your main Jazz Jackrabbit 2 directory.
---
What is your opinion of Jazz Sprite Dynamite?
It's the most incredible thing to hit the Jazz 2 community! – 25 Votes (33%)
It's great, if not the epitome of technology and awesomeness. – 18 Votes (24%)
It's good. – 16 Votes (21%)
I don't like the idea for some reason. – 7 Votes (9%)
I don't want to have to download huge .j2a files with my level packs, this sucks. – 2 Votes (3%)
I don't understand it. – 5 Votes (7%)
Now I can get rid of Uterus! (other) – 3 Votes (4%)
Total votes: 76

---
Looks very positive overall. Unfortunately, with Neobeo leaving us to join the army for a few months, it looks like the program isn't going to get any much-needed updates for a while. However, Neobeo has posted
file format information
for much of JJ2, including .j2l and .j2t files, and anims.j2a, so maybe someone can take over that work and help everyone out.
In the meantime, as I'm sure you've noticed, it's almost time for the Anniversary Bash. What that means is:
For almost eight years, Castle's slides haven't worked.
For almost eight years, Carrotus has been kinda hard to tile.
For almost eight years, Labrat hasn't had proper floor-wall connector tiles.
For almost eight years, Colonius has been limited in terms of inside the houses.
For almost eight years, Psych… well, yeah.
For almost eight years, Beach's sunken boat has had a label "3" next to it.
For almost eight years, Diamondus has had a really bad mask for its foreground trees.
For almost eight years, Tubelectric hasn't had those receding spikes.
For almost eight years, Medivo's background has not been able to texture.
For almost eight years, Jungle has had pretty lousy masking.
For almost eight years, Inferno has required careful hours to make a single wall.
For almost eight years, Dam Nation has had those messed up silvery things.
For almost eight years, Deanset has been unusable. And that's going to change any day now!
Anyway, here's the new poll question. After nearly eight years, which tileset do you hate the most?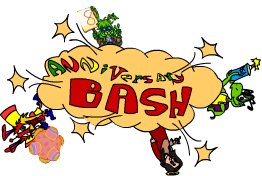 Logo by n00b. Logos and wallpapers here
This weekend, starting on friday and ending on sunday, the Anniversary Bash will be hosted for the eighth time, because this weekend's our favourite game's birthday. Be sure to fix your routers, re-install your game, download your patches and free some time so you can play at the best event of the year.
As always, a (regular Jazzjackrabbit 2, not TSF) server will be hosted with a level pack (assembled by Cooba this year) containing last year's best levels. There might be additional events. That's up to you, be sure to host some cool events.
Oh, and get all your inactive buddies to play for a weekend too, and make some oldies stop by!
More details as they come in…
Source: Cooba
Two days ago, news came out that Epic might be looking into releasing Jazz Jackrabbit on new consoles. Yesterday, Cliffy Bleszinski, Epic Employee, made a throwaway remark about Jazz Jackrabbit 3 during a radio interview. A leak from our Toxic Bunny, now apparently an employee of Game Titan, gives us further information on this amazing new development.
Apparently, Jazz Jackrabbit 3 (full name: Jazz Jackrabbit 3: A New Hope) is indeed under development, by Game Titan. It is going to be based further on the Jazz Jackrabbit Advance Universe. Toxic Bunny has posted a thread on the forum with some details.
Choice quote:
To their credit, Game Titan have managed to come up with an incredibly innovative way of reconciling the new games' canon with the old. At the start of the game, Jazz wakes up and realises that JJ1 and JJ2 were all a dream.

It is the morning of his wedding to Zoe Cottontail. AS the ceremony is about to begin, Dark Shell breaks in and steals Zoe's diamond wedding ring. He escapes to the planet Carrotooine.
It is obvious that we can look forward to exciting times. Naturally, this site must adapt to stay current. We should be releasing Jazz3Online: A New Hope before summer.
Comment!