Jazz2Online news for March 2006
Source: Shacknews
In an interview with gaming news-site Shacknews the CEO of Jazz Jackrabbit's producer Epic Games, Mark Rein, revealed that Epic has been thinking about bringing their old franchises (Jazz Jackrabbit, Jill of the Jungle) to next-generation consoles using the Unreal 3 Engine (which, might I add, looks totally awesome). Especially this excerpt (which is also the only one mentioning Jazz Jackrabbit) is interesting:
It wouldn't be possible to bring Jazz, the old original Jazz code which was a lot of assembly code, to Xbox Live Arcade but that doesn't mean that we couldn't bring the characters and ideas and stick them into Unreal Engine 3. We do have a few Unreal Engine 3 casual game projects under way. Not us, personally, but licensees. We're excited about that, and Sony's service that they talked about, so I think you will see a lot of cool stuff brought to Xbox Live Arcade using Unreal Engine 3. It's certainly a lot more efficient than what people were using before. Whether any of that is old content or not, I don't know. I want to see a new Jill of the Jungle game in UE3. I mean, it's our IP, so who knows.
---
What is your favorite Agama tileset?
Heaven – 24 Votes (26%)
Egypt – 18 Votes (19%)
Sirius/Dimensions – 9 Votes (10%)
Swamps of the Sleeping Jaguar – 23 Votes (24%)
HER BEST IS YET TO COME!!! – 13 Votes (14%)
Mez01 – 7 Votes (7%)
Total votes: 94

---
Okay, I have nothing much to say about that one. Good luck to all thirteen of you waiting hopefully.
I'm not sure why this hasn't been mentioned yet, but about a week ago, user Neobeo uploaded a utility called Jazz Sprite Dynamite. This tiny little program lets you reach into the anims.j2a file of Jazz 2 (1.23 or 1.24), which is where all the sprites are stored, and edit them. You can give Jazz an afro, replace the crab enemy with a giant world war two tank, whatever. It's currently the highest rated program in the downloads section and updates are fairly frequent. This poll asks what you think about it.
Ranks

-

March 6th 2006
Everyone has probably noticed by now we've put back reviewers' ranks in the downloads section. Ranks are given based on review count. The higher the reviewer's review count the higher the rank. Any thoughts and suggestions? (one suggestion will already be implemented at some time, probably: only non-N/A reviews are counted towards the rank)
Here are the new ranks:
0 reviews: 'CTF Bug'
10 reviews: 'Frog'
25 reviews: 'Turtle Goon'
50 reviews: 'Spaz Slackrabbit'
100 reviews: 'Jazz Jackrabbit'
200 reviews: 'Carrot Juice Addict'
300 reviews: 'Aiko wannabe'
400 reviews: 'I might as well work here'
500 reviews: User can specify personalised title in profile
There might also be a few secret ranks :o
February has been a fast paced month including downloads such as Blackraptors' nicely themed Race for the vodka and Yaxos'abstract and quickly paced Electric Danger. Both of which are decent levels built for the purpose of quick, intense gameplay on the shortest month of the year. Coincidence?
This month features yet another fast paced download with Random Race Levels by Cooba. This pack contains only two levels, both of which share similar concepts. One of theese is not letting the player who gets the head start always win; an important yet underused concept in race levels is designing obstacles which can alow players to make comebacks possible, not just rarely or by fluke. Citadel of Velocity, as the title suggests, is fast paced, meaning having little obstacles, or just ones that don't limit the feeling of speed to a great effect. I emphasize the 'feeling' of speed as this is what the level is all about, and it works. The other level, Boomerang, consists of some of the most clever race obstacles and theme in any race level. Having a boomerang design is not all it possesses; the gameplay concept is not making it to the end to score a lap, or even to move in circles around the level to complete laps. The concept here is to come back the way you came after you've reached the end.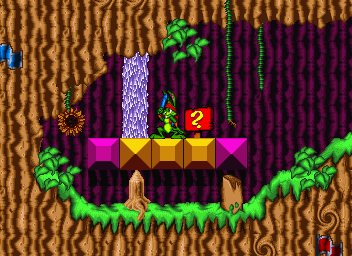 As you can see in the picture above the author added a trap intended to keep players guessing where to go and what to do. There is a linear tunnel added in which tnt can be stratigically used to blow players off course. Those are just to name a couple of the ideas used in Boomerang.