February has been a fast paced month including downloads such as Blackraptors' nicely themed Race for the vodka and Yaxos'abstract and quickly paced Electric Danger. Both of which are decent levels built for the purpose of quick, intense gameplay on the shortest month of the year. Coincidence?
This month features yet another fast paced download with Random Race Levels by Cooba. This pack contains only two levels, both of which share similar concepts. One of theese is not letting the player who gets the head start always win; an important yet underused concept in race levels is designing obstacles which can alow players to make comebacks possible, not just rarely or by fluke. Citadel of Velocity, as the title suggests, is fast paced, meaning having little obstacles, or just ones that don't limit the feeling of speed to a great effect. I emphasize the 'feeling' of speed as this is what the level is all about, and it works. The other level, Boomerang, consists of some of the most clever race obstacles and theme in any race level. Having a boomerang design is not all it possesses; the gameplay concept is not making it to the end to score a lap, or even to move in circles around the level to complete laps. The concept here is to come back the way you came after you've reached the end.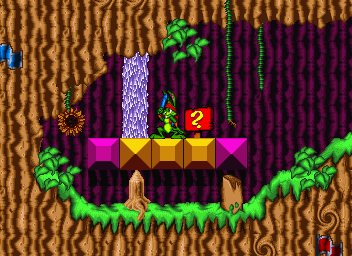 As you can see in the picture above the author added a trap intended to keep players guessing where to go and what to do. There is a linear tunnel added in which tnt can be stratigically used to blow players off course. Those are just to name a couple of the ideas used in Boomerang.