We haven't had a poll in a while, so here's one that could potentially spawn some discussion. First, results from the last poll:

---
Which download rating system do you like the most?
Old J2C (1 to 4 or 5, with tenths) – 4 Votes (4%)
J2C three-star (*, **, ***) – 2 Votes (2%)
J2C nine star (*, **, ***, with Low and High modifiers) – 7 Votes (7%)
Universe Jazz (quality bars) – 6 Votes (6%)
J2Ov1 (1-10 with .0, .2, .5 and .7) – 17 Votes (18%)
J2Ov2 (with 0.1 to 10 and all tenths inbetween) – 49 Votes (51%)
Boolean (GOOD or BAD) – 7 Votes (7%)
Other (specify) – 4 Votes (4%)
Total votes: 96

---
Looks like J2O is good to go. :) It possibly is worth noting that since this poll, J2Ov2 has switched from 0.1-10 to 1-10. Thank you all for your feedback. Next up,
What is your favorite Agama tileset?
Now don't tell me you haven't all seen this one coming. The featured download of January was by our very own Blade!
Blade always makes beautiful tilesets, amazingly with a very unique and surprisingly simple drawing style. This one continues the tradition and is his best work by visual standards so far. Twilight Park is set around a city in a park at night. Ofcourse it has to be night to have a certain atmosphere; daytime would make the set have a totally different feel, which is probably why he didn't add such a version. Another one of Blades' famous traits is how he makes his sets have max usability. Even the Background can be stretched and modified to the authors will.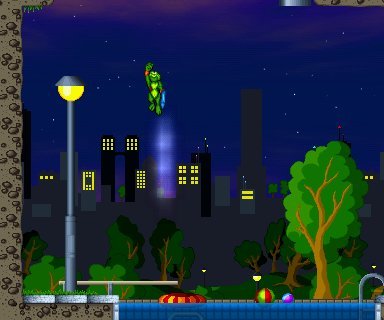 For such a simple theme as a park, a quite large amount of creativity was shown by the addition of pools, fences and even pipes. In other words, you will have no trouble finding the right tiles you need for a park by using this set. Everything you need is here and even more.