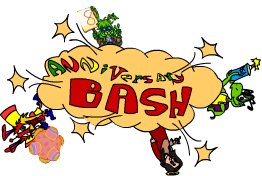 Logo by n00b. Logos and wallpapers here
Hosting Capture the Flag bash right now
What is the Anniversary Bash?
The Anniversary Bash is a 3-day celebration of Jazz Jackrabbit 2's eighth Anniversary. A server is hosted to play on during the anniversary, which is called the Anniversary Bash.
And the bash is ON!
Have fun playing at the battle bash! Remember to download the packs (see bottom of post). The packs have been updated now, so please re-download, or you will not be able to join.
Bash times
The bash will start today, at 2 PM GMT.
Times for some of the different countries and timezones:
Britain: 3 PM/15:00
The Netherlands: 4 PM/16:00
Israel: 5 PM/17:00
EDT: 10 AM/10:00
PDT: 7 AM/7:00
Get the official packs
These were assembled by Cooba, with help from several people for suggestions.
Level Pack (CTF and Battle)
Tilesets part I – Tilesets part II.
Please do download the levels and tilesets before playing. If you do not have these, you will not be able to play, and will receive errors when trying to join the server. Unzip both zips into your main Jazz Jackrabbit 2 directory.