Jazz2Online news for January 2007
The LMAT project is ongoing again! Everybody can contribute to a community tileset by adding their own tiles.
Now get to work! ;)
I would like to point out that this entry is outdated at the moment. Anyone with good knowledge of 2006's edition, please edit this entry.
This was posted on RabbitJournal on January 16th 2007. You can post, too!
Rabbitjournal's comments now work. Rabbitjournal also uses the same system as our news system now, so it might happen, if you write a good (news-related) entry, that it gets promoted to the front page.
It's been 2 years since we first announced that our favorite hero was being sold in plush toy form over at www.ifd.com/product_info.php/products_id/97! Since it's been so long I wanted to give this product another feature on the front of J2O.
And, if your memory is really good you'll remember that IFD was running a $5 off coupon for us when you bought the Jazz doll. That deal is still good only it's gotten even better! I contacted the owner there again and he's willing to give a 50% off coupon for an order of multiple dolls. (That's $5 off each doll limit 5). The owner estimates that he's got about 100 or so dolls left in stock and he does ship internationally. For a single one it will cost you just $8.51 with shipping in the US!
When you get to the confirmation page of checkout enter 8ed8c2 to redeem the coupon. I got one of these a couple of years ago and it's a great piece of memorabilia. :)
---
What are you doing for this year's holidays?
A little holiday themed single player pack. – 6 Votes (8%)
A brand new holiday themed tileset. – 2 Votes (3%)
A wintery conversion of a JJ2 tileset. – 1 Votes (1%)
A lot of reviews. – 2 Votes (3%)
A 24/7 server hosting holiday themed levels. – 2 Votes (3%)
Something different than all of the above. – 16 Votes (20%)
_Something really awesome!_ – 26 Votes (33%)
_Nothing, I'm a bitter hermit :| _ – 24 Votes (30%)
Total votes: 79

---
Looks like "Something
really
awesome!" was the winner. Did anyone see 26 really awesome things? I'm pretty sure I didn't…
This next poll also tries to be relatively topical… Favorite JJ2 Upgrade?
The voting for the awards has finished, and here are the results!
---
2006's best level maker:
Snooze
2006's best level pack:
New Ages

CTF
by Snooze
2006's best
CTF
level:
Helldome
by EvilMike
2006's best non-
CTF
level:
The Chasm
by Blackraptor
2006's best tileset:
Twilight Park
by Blade
2006's best tileset conversion:
JJ2 conversion pack
by
NOKA
---
Congratulations to all of the winners!
FQ adds: R3ptile has interviewed the winner, Snooze. You can find the interview here.
Hello everyone! After another month with tileset conversions, JJ2 programs, patches, level packs and great single levels, it's time for a Featured Download. I hope everyone enjoyed the end of 2006 and just go on in 2007.
We've had great uploads in December of 2006. So much that a list should be necessary:
(chronological order applies)
After all these uploads there is one upload that's left. In my opinion, it's the best server tool so far. The program I'm talking about is Carrotade by BlurredD.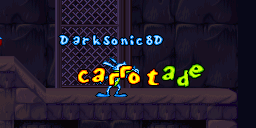 Click to enlarge
This program is not just a normal program. If you activate it in a server, many functions are added. The gamemode Pitfall activates if you open it. You can see how this gamemode works in BlurredD's and Impressive Creations' Pitfall packs. You can quickly cycle between levels if you want to play another level in a server. You can activate autocycle(helpful for AB packs) to play every level a few minutes(or more) it does things that the Weapon Regenerator did, the server is protected against hacks if you activate it, the Seeker Hole Fix applies and also CTF bugs are fixed. And there are lots of other things you can do with this.
If you don't feel like playing a normal CTF game, you can activate passing on for example. You can give your partner the flag if you think that person will do it better. You can shuffle teams, and change teams for players. If you get enough kills (in both battle and CTF modes), you'll see messages, just like in the Unreal Tournament series. After 5 kills you're on a killing spree, after 10 kills you are on a rampage, after 15 kills you are dominating, after 20 kills you're unstoppable and finally after 25 kills you're GODLIKE! Before this was released I saw what it can do, but I didn't know that it can do so many things. Before using this, please read the readme. You can't just open it because of all those commands. I knew that this was going to be released in December, and it beats other uploads this month. It was a great month though.
A honorable mention also should go to Grytolle's 1.23+ patch. It has many various functions just like Carrotade, but it makes people (the patch isn't server-side only) crash more often than usual and that's a big con. Hopefully this can be fixed.
Well, see you next month!