♥
Spread the love
[Link addition edit!!! – FQuist]
[Link
IMPROVEMENT
edit ~Cooba]
[Final love edit – FQuist]
poll

-

February 12th 2007
k cooba

---
Favorite JJ2 Upgrade?
1.23+ XMas Release – 35 Votes (42%)
Carrotade – 30 Votes (36%)
Other (I am a hoarder) – 19 Votes (23%)
Total votes: 84

---
I have no useful or fascinating comment to insert here. Also, I haven't downloaded either one. :|
Next up we have the first poll I could think of: Favorite Jazz character portrayal? Through different games, Jazz has also been different… in JJ1, he took full advantage of his cartoon background in the cutscnes, combining wacky antics with determination, plus his original motivation portrayed in the manual's comic. In JJ2, his interaction is mainly limited to Eva and Spaz. Etc. Which was the best?
Featured Download of January
After another month, it's time for the Featured Download. Let me tell everyone that this month was worse than the previous ones. Not many really good uploads, but still a few that are worth to mention.
But the featured download is a Single Player level by Neobeo. I'm going to tell a few things about the level, so no detailed review or something.
Neobeo's Firetruck is a Single Player level that's different compared to other Single Player levels. It's one of those puzzle levels and it has no enemies. The tileset used(Tile World) was unknown to me until I downloaded this. The eye candy might not be good, but the level is special because of its originality(with the puzzles) And I found it quite entertaining, but hard sometimes. Some puzzles were a bit hard, I still managed to finish them though.
The author credited JCS+ too, that might be a new JCS or something. Sounds interesting to me. If you look at this in JCS you notice it's a real firetruck(and that's nice to see) Some puzzles took time to finish, and you have to morph in Jazz and Spaz often. Some people might not have enough patience for this level because it takes some time to finish it. When I started to play this level I didn't know what to do ;p. But while I was playing it I began to like it more.
For a first level this level is very impressive. Although some people don't like the concept, it's a very original level. Therefore, this level is the Featured Download of January. But I hope that next month will be better.
Sorry for the short article, but here is a screenshot: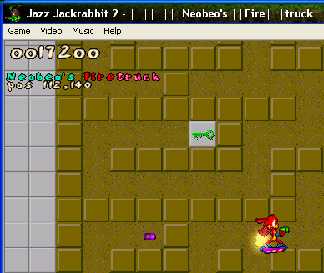 Well, Spaz is not in the center.. but that isn't much of a problem I hope.
This was the Featured Download of January. It took me much time to put the right HTML tags ;/