Hello everyone! After another month with tileset conversions, JJ2 programs, patches, level packs and great single levels, it's time for a Featured Download. I hope everyone enjoyed the end of 2006 and just go on in 2007.
We've had great uploads in December of 2006. So much that a list should be necessary:
(chronological order applies)
After all these uploads there is one upload that's left. In my opinion, it's the best server tool so far. The program I'm talking about is Carrotade by BlurredD.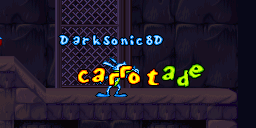 Click to enlarge
This program is not just a normal program. If you activate it in a server, many functions are added. The gamemode Pitfall activates if you open it. You can see how this gamemode works in BlurredD's and Impressive Creations' Pitfall packs. You can quickly cycle between levels if you want to play another level in a server. You can activate autocycle(helpful for AB packs) to play every level a few minutes(or more) it does things that the Weapon Regenerator did, the server is protected against hacks if you activate it, the Seeker Hole Fix applies and also CTF bugs are fixed. And there are lots of other things you can do with this.
If you don't feel like playing a normal CTF game, you can activate passing on for example. You can give your partner the flag if you think that person will do it better. You can shuffle teams, and change teams for players. If you get enough kills (in both battle and CTF modes), you'll see messages, just like in the Unreal Tournament series. After 5 kills you're on a killing spree, after 10 kills you are on a rampage, after 15 kills you are dominating, after 20 kills you're unstoppable and finally after 25 kills you're GODLIKE! Before this was released I saw what it can do, but I didn't know that it can do so many things. Before using this, please read the readme. You can't just open it because of all those commands. I knew that this was going to be released in December, and it beats other uploads this month. It was a great month though.
A honorable mention also should go to Grytolle's 1.23+ patch. It has many various functions just like Carrotade, but it makes people (the patch isn't server-side only) crash more often than usual and that's a big con. Hopefully this can be fixed.
Well, see you next month!