Source: JDC
Keeping it short so as not to push down the other news: JDC is set to return on June 1st, so go log in to activate your account.
You'll also want to check out the JDCE signups and the big empty spot where the logo usually goes…
Source: Retro Game Music Bundle
A great many developments in the video gaming world have arisen since the mid-1990's, among them being the idea that a game's soundtrack might be something that could be released independently. Successfully, even. Epic Games included a couple of Jazz songs in their 20th Anniversary Soundtrack Compilation thingy, and Alexander Brandon once gifted Lori Central with the JJ2 soundtrack (still in module format), but overall, despite its universally beloved music, the Jazz Jackrabbit series has never seen a commercial soundtrack release.
Until today. As of, uh, fifteen minutes before I posted this. (Yeah, I was hovering over their website waiting for them to release this.)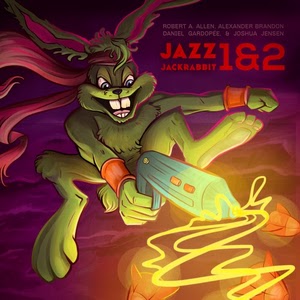 The Game Music Bundle organization traditionally releases soundtracks from Indie games, but this time around chose to focus on "retro" games, in particular the 90's era that we all know and presumably love. To this end, for the ludicrously low price of $1, you can buy the complete soundtracks of both Jazz 1 and Jazz 2, plus four more games, including Tyrian (also from our friends at Epic). Pay $10, and thirteen more albums get added to your order, including the soundtrack of Jazz 3D! There are other games in the list that I'd be happy to rave about, but they're not really relevant to a Jazz Jackrabbit news website. ;)
I don't know too much about the Game Music Bundle folks' business model, though not for want of trying… they simply don't talk about themselves very much. But there's every indication that this is a 100% legal venture. They've done this many times before (though, again, with indie games instead of retro ones), and they make specific mention of doing work to untangle the copyrights of the JJ1 and JJ2 soundtracks.
Obviously I can't make you buy this. But I can strongly suggest you do so. (And if there's any sort of comment field — I haven't checked yet — do remember to mention it was Jazz that brought you there!) Rumors have been circulating about either the JJ1 or JJ2 soundtrack being included in this bundle ever since they teased an icon of a turtle shell, and especially after a tweet mentioning two brothers and one of them being "SPASTIC." (They messed up, though, by saying there was no time travel involved.) This — all three PC games — is a bigger deal than I think anyone could possibly have predicted, however.
EDIT1:
Here's a blog post about the process of creating this bundle.
This seems to be the best place to contact them with questions or concerns.
EDIT2:
We've been discovered! "Josh from the GMB" has shown up in the comments section. Everyone say hi!
News is feeling a little slow of late, so why not post some pictures from that time the television show Law and Order: Criminal Intent made up a couple video games and modeled one of them after Jazz Jackrabbit? (The other, naturally, being modeled after Unreal Tournament.)
8)

-

May 1st 2013
Happy International Jazz Day, everybunny!