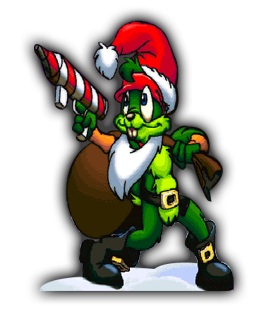 Happy holidays!
Aaaaaand it's that time of the year again! The Jazz2Online staff wishes you all a (slightly belated) merry christmas and a spectacular new year. Enjoy the last bits of 2016!
Source: this very website tbh
Santa visted Carrotus early this year and look what he left in our Christmas stockings, a new JJ2+ release!!
Lots of bugfixes and behind-the-scenes improvements this time, as well as some new features:
/gemtransfer allows instant transfer of gems in Treasure and Head Hunters, instead of the default behaviour of gems dropping to the ground.
/resetadmins reloads the admin configuration file, restoring admin privileges to those specified in there
Code that draws translucent tiles was made faster, so that they won't slow down the game as much
A health glitch associated with anti-radar mode was fixed
…and more! As always, check the changelog for the full list of updates, report bugs in the JCF thread and download the latest version here.