Jazz2Online news for May 2008
Most annoying thing in a MP level?
Looking "deinspirated"
22 votes (24%)
jungle.j2b
5 votes (6%)
Seeker powerups
8 votes (9%)

PITS

32 votes (36%)
Being a hotel
23 votes (26%)
Total votes: 90
The J2O staff would like to congratulate one of our most dedicated members and avid War Tavern writers, Coppertop, who has become Mrs Coppertop a few weeks ago. Best wishes to her and her newly acquired husband :)
Assuming that this marriage would be a community trend setter,
which of these couples will be the first to get married? Will it be Vegito and Sperry, renowned for their performances at the JDC? Or will it be Black Ninja and his most recent love interest?
Their future life is at your hands!
April's Featured Download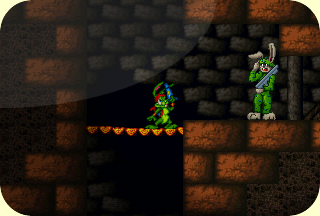 The Resistance by EvilMike
The latest installment in EvilMike's The Resurrection of Devan Shell has surfaced at long last. This is not all EM had to say in April, though, as the fourth episode was preceded by re-releasing the prior three parts of the sprawling adventure.
The Resistance puts our nameless hero on a war-overriden Carrotus, fighting in a battle that's doomed to be lost. The player's goal here is to establish the link between the main base of the resistance movement and its nearly starving outpost located in the village Thrax. In the middle of his mission, the hero makes a visit to a place turned bad, and the plot gets an unforeseen twist…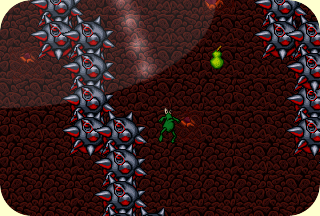 Download this episode now! And if that wasn't enough of EvilMike, check out his revived JJ2 blog at jazz2.blogspot.com. Nifty huh?
Oh no!Jazz2 is falling!!!The people arent playing JJ2 so much anymore!!!people like Eragon,Oni3jj (oniejj)and other.Servers are boring.Well not all ;)But you can't see Eragon's survivors,assauts and other.There arent any team battles,no zombie servers,no flag runs…There aren't any servers…So please lets all host something cool!!!Lets save jj2!!!!!!!!
This was posted on RabbitJournal on May 1st 2008. You can post, too!