Jazz2Online news for December 2012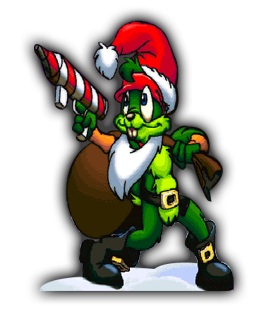 Happy holidays!
On behalf of the Jazz2Online staff, I wish you all a merry christmas and a splendid new year. Enjoy the last few days of 2012!
Source: Epic Store

It's been a long time since you could buy the original JJ1 and JJ2 t-shirts, but with the release of its new Epic Store, Epic Games has just created an all-new Jazz Jackrabbit t-shirt for you stalwarts to buy! It shows the JJ1 logo, surrounded by twenty-two of his sprites, on a black or purple shirt. It's also the first time they've sold anything Jazz-related in a very long time. Jazztastic!
The t-shirt appears in the "retro" section of the store, along with a shirt based on Unreal Tournament, released in 1999, and another based on Bulletstorm, released in 2011. Jill of the Jungle remains uninvited.
Epic says on their blog "Be sure to give us your feedback and let us know what you'd like to see in future updates!", so be sure to head on over and do exactly that!
New poll

-

December 10th 2012
Best also-ran playable experience?
JJ2 Christmas Chronicles
18 votes (45%)
JJ3 Alpha
15 votes (37%)
Jazz Jackrabbit Advance
7 votes (17%)
Jazz iOS Stick Shooter Demo
0 vote (0%)
Total votes: 40
So, to summarize. JJ3, JJA, and the stick shooter thing all introduced their own unique engines, weapons, graphics, and (except for the stick shooter) music and plots. Christmas Chronicles introduced… a green background for the menu. Somehow the very fact that it uses the JJ2 engine boosted it up over everything else. Okay. But how about the top of the barrel instead? What is the best playable experience?
JJ1 has more levels and tilesets, but JJ2 has significantly more of both if you count fan content. JJ1 lets you edit more aspects of a level, but JJ2 is simpler to make levels for. JJ2 has more playable characters, but in JJ1 you could shoot as a bird. JJ1 has 3D bonus levels and lots of secret levels and cutscenes, JJ2… doesn't. JJ1 is much harder and has a smaller resolution, but that's not always a good thing. JJ2 has online multiplayer. JJ2 has more detailed graphics and far more animations, but JJ1 has more inventive design. I could go on. But maybe you should instead?
Answer the question in any way you like. Include HH98/CC99/TSF and HH94/HH95/JJCD in your considerations if you want, or else don't. The only way to do this wrong is not to vote at all.
Source: JDC website
The duel ladder is set to return on December 15th.
After what was a way too long pause, the site is functional, and everything is ready to go, exactly the way you remember it – including a surprise or a two. Go log in now, so your account is marked as active!