Jazz2Online news for March 2009
I am in no way attacking the parties involved in this, and I'm not trying to make enemies, but I ask that you carefully read the Lizzardsupport stuff BEFORE you vote on it. On the one already, six people have voted, when it is (in all sincerity) nothing more than an altered copy of the JJ2 manual. The other ones make little to no sense, and while I supported the project to start with, I'm now not quite sure what it is, so I am against it. Sorry Lizz, but I think Rabbitjournal readers need to pay attention to what they're reading before they place a vote on it. I wish I had taken a bit more time when I did.
Honestly, I'm not attacking anybody with this!
This was posted on RabbitJournal on March 23rd 2009. You can post, too!
I have installed the site analyzer Google Analytics to Jazz2online. I have done this not to get more statistics about how many people visit our site, but to check how users move through our site. This allows us to remove barely used links and sections and improve navigation.
I realize Google gets a lot of data on you all, and many people think it gets too much data. So if you vehemently disagree with this action please do say so. A Google search (har har) for "blocking google analytics" will show you how to prevent being tracked.
Edit: I have also temporarily added the Clicktale analytics service, which makes usability recordings of around 1.5% of users. This is done to study usability. The service is disabled on pages such as log in, register and profile editing and private messages, to avoid recording private data.
This was posted on RabbitJournal on March 16th 2009. You can post, too!
The awesomely awesome Alister/Toxicbunny has released a new version of OpenJazz that has preliminary multiplayer(!!!) support.
OpenJazz is an open source remake of Jazz Jackrabbit 1 that needs the original game's files. It supports multiple operating systems and works fine on newer Windows versions, unlike the original game.
This was posted on RabbitJournal on March 16th 2009. You can post, too!
Hello?

-

March 23rd 2009
Four days ago I've started a thread on JCF with my new music and there's still no response, moreover there were only 23 views so far and I'm wondering: why? Nobody noticed or nobody cares? It's not that I am bitter, rather I'm interested what is the reason for this.
This was posted on RabbitJournal on March 15th 2009. You can post, too!
zapS has released two incredibly obvious, and equally useful, utilities, the TSF to 1.23 J2L/J2T converters. These easy-to-use programs take levels and tilesets that have been unnecessarily saved or compiled in the TSF JCS and (assuming they or their tilesets are small enough) convert them to 1.23-compatible files. Unless someone specifically uses more than 1023 tiles in their level or tileset — and there are what, twenty tilesets in existence taking actual advantage of the TSF tile limit? — you need never again complain about things being saved in TSF. Obviously you should have bought TSF yourself long ago, but if you didn't, now you can play things made by people who did! And if you did, now you can release your works to maximum enjoyment.
Shrunken Jazz, Subsurfacia, Hustar… bring them on, JCS Users! And Chandie had better get a whole new set of fans.
TSF to 1.23 J2L Converter
TSF to 1.23 J2T Converter
February's Featured Download
Only one day late this time…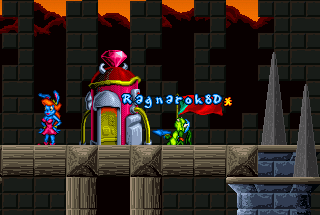 Sanguinary Sanctuary by cooba
Here it is, the not-so-long awaited Capture the Flag map that has everything; ranging from killer gameplay, to high levels of aesthetics. This is a very large map, suitable for party-sized games (what else would I feature?), and more. The atmosphere is created perfectly by the use of weathered walls, collapsed constructions and a beautiful sun-set background.
This is THE level to have this month, (and next month, and probably the month after) so go download it now if you haven't done so already. Download away!
There was no
OLC
bias in the making of this post