Jazz2Online news for December 2010
Source: twitter
Jazz gets his share of mentions on retro gaming threads on various forums, lists of the best rabbits, etc., but few are as detailed as this christmas special retrospective which gives a lot of prominence and screen time to HH94 and HH95. (98 isn't mentioned, presumably since the video focuses exclusively on free releases.) What were those devils and grasping hands doing on Holidaius, anyway?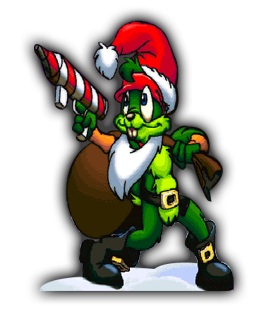 Happy holidays!
The Jazz2Online staff wishes you happy holidays and a fine 2011. See you next year!
Christmas

-

December 25th 2010
Today is christmas…
Merry christmas to everyone :D.
This was posted on RabbitJournal on December 24th 2010. You can post, too!
NC Has maded a NC Gip with DJazzy (DJazzy isn't in NC) And they has maded the NC GIP!
Link : http://jj2.ath.cx/Fabian/NCweb/serverlist.html
This was posted on RabbitJournal on December 20th 2010. You can post, too!
Source: Haze @ the JCF, Joystiq
Keep an eye on Cliff Bleszinski's twitter account tomorrow, as he posted a mysterious "Thursday is going to be Jazzy. Might even be rabbity…" announcement on it today.
Update: So, what happened was that Epic released an update for their engine to make it compatible with iOS, Apple's mobile operating system, and they used a Jazz Jackrabbit demo to show it off! Check out some screenshots over at Joystiq.
It's hard to say much about the demo based on just screenshots, but it looks like Epic at least got the colourful look right. The company has a history of turning tech demos into full-blown releases, so who knows…
Edit: Video! here
Extra edit: Quoth Mark Rein, big boss of Epic Games (emphasis ours):
Just to be certain: this is not intended to be the start of a new Jazz Jackrabbit game from Epic. Shane wanted to make a tutorial to showing how you could use Unreal Kismet to whip up a quick little game prototype for iOS. He and Cliff thought it would be funny to use Jazz as the character for it. He did a great job on it and it turned out to be a fantastic tutorial on how to use Unreal Kismet, the powerful visual scripting tool in Unreal Engine 3.
News Never Stops: Quoth ClifferyB:
Think of this as a way of testing the waters for interest. You never know. I'm open to finding a right partner who could potentially bring Jazz back. I've been talking to some industry friends who are poking around.
Source: JCF thread
It's time for JCS Awards once again.
This year we'll choose the best JJ2 releases of 2010 in a similar way to last year – the first stage is choosing nominations, the second stage is voting, and the third stage is announcement of the awards.
Right now we're on stage one, the nominations. You may post your nominations in this thread. Anyone may post nominations, and it's recommended that you post as many as possible. You can also send me a private message on the JCF, or also here.
More news will come when voting begins.
Bugfixes

-

December 7th 2010
I've fixed a few problems related to uploading files, most notably one that made slashes appear through your upload information. I've also fixed a bug that prevented some users from editing their uploads.
More importantly, you can now delete screenshots from your own uploads, even if those screenshots were added by other users. Click a screenshot and then "delete this screenshot" to do so.
Pack your bags folks, as this featured upload sends you directly to the city! Gaze at the beautiful cityscape while struggling to keep up with your fellow players, be it on the cold concrete of the vegetation-surrounded sidewalks or the marble-crafted rooftops. Whatever you do, don't miss the trip!
Clearly the originality of this level is in the layout, the layer 4 eyecandy is of high quality and the background is allright.
Review by master sven (8.3)
JJ2 is about speed and this level delivers. It's crazy fun to play in.
Review by [GpW]Urbs (10.0)
—
No, I'm not dead!
Due to a bug, right now it is not possible to register as a J2O user. Please have patience while we fix the problem.
Update: Fixed!