Hello everyone! Another month has started, and that means that it's time for a Featured Download. Today we have something you probably don't expect from me if you know me. Before I'm going to tell what the Featured Download is, I'll give some uploads that deserve mention as well.
At first, we have two tileset conversions by P4ul. Inferno 2.0 & Jungle 2.0 are two nice conversions that are waiting for you to use them. Also, Snooze made a CTF level called Teacup. It's one of the better CTF levels of the last months. Olsen's Distant Thunders is waiting for a review as well. It deserves it. But enough talking now, up to the Featured Download!
The Featured Download of November is… a Single Player level by Violet CLM, and if you know me you know I'm not too fond of Single Player levels. But this is an exception. The level I'm talking about is Shade Castle, a fun level that was pretty hard for me(but I'm not too good in Single Player) so an average player should find it easier than me. I managed to complete the level though.
First of all, this level uses an underused tileset called Eternal Agony(Light version) a tileset that's very hard to use according to the tileset creator. But in this level, Violet CLM used the tileset better than ever. The level's eye candy is just brilliant. Layer 5 has lots of stuff, and not everything is the same on every place. If you don't believe that the eye candy is so good, the screenshot that I made should tell something.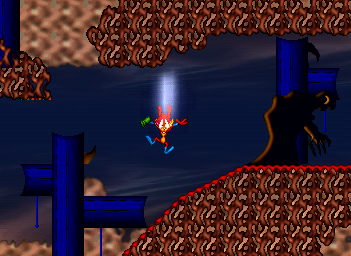 But now, I'm going to tell something about the level itself. The main concept is that you need to get 10 coins before you can go to a warp with the end boss. The coins are placed on some nice places where you need to do something. Something that striked me was that there are no check points before you got 10 coins. You can go many ways in the level, I like that. The enemies are placed pretty nice, there are not too many and not too few. The little spikes were a bit hard to avoid at first, but now I'm used to them. It took some time till I found out some things, like the trigger crate with the TNT. There were enough carrots in the level, but maybe too little ammo. It worked out very well for me though. The food in the level was really nice as well. There were also some secrets, like a gem stomp I found when I had a sugar rush and hit something. That was pretty funny. I also liked the gems in the level, they filled up the level's events.
Overall this level is a really nice level with an original tileset that has great eye candy, a layout with many ways and great event placement. The level has a 9.2 now, and there is no upload that beat that this month. I'm not looking at the rating, but this was definitely the best upload this month.
Note: might be bad quality. Screenshot taken when I started with the level.
(Added links to uploads mentioned. ~Violet)
Edit: Thanks for the edit. Also removed the sentence about the html codes.